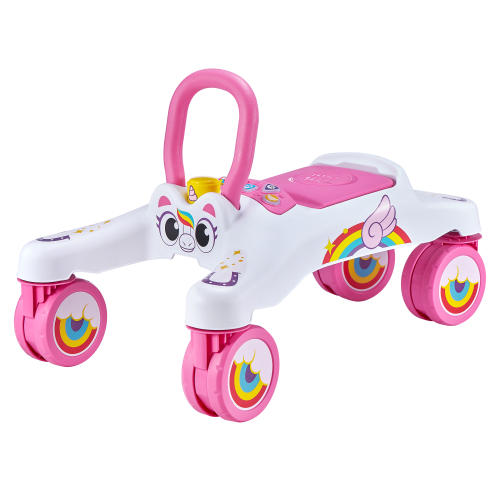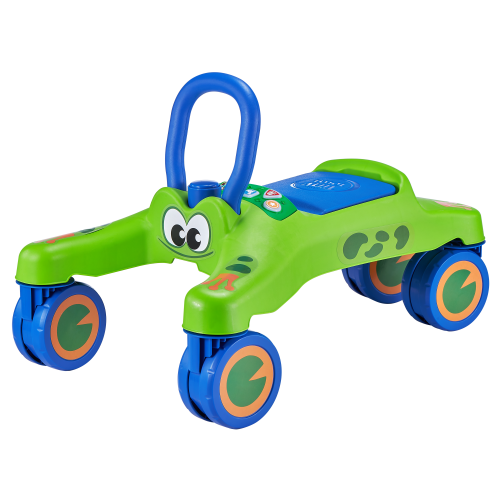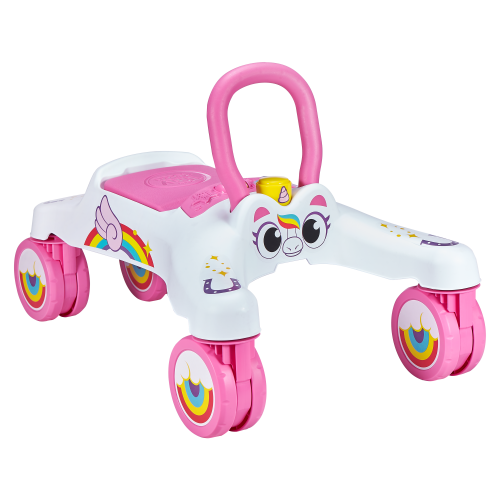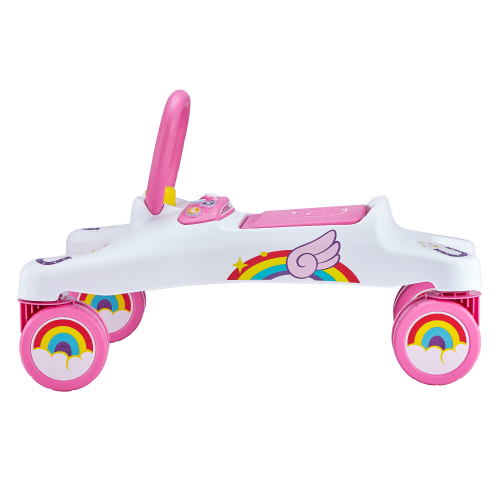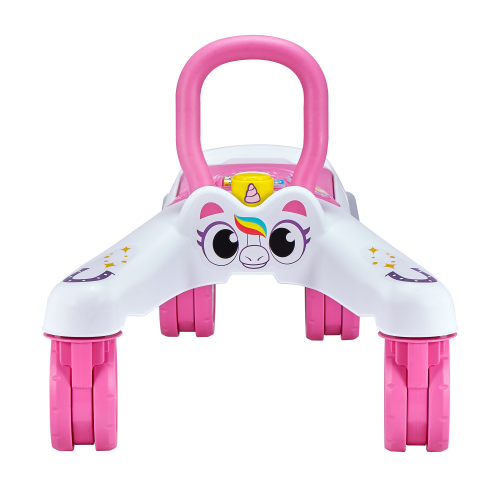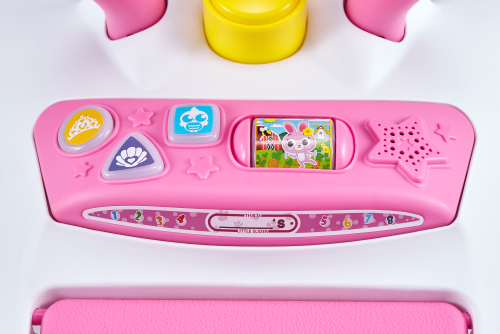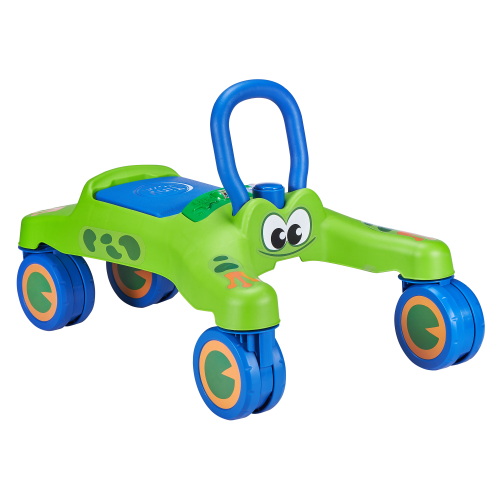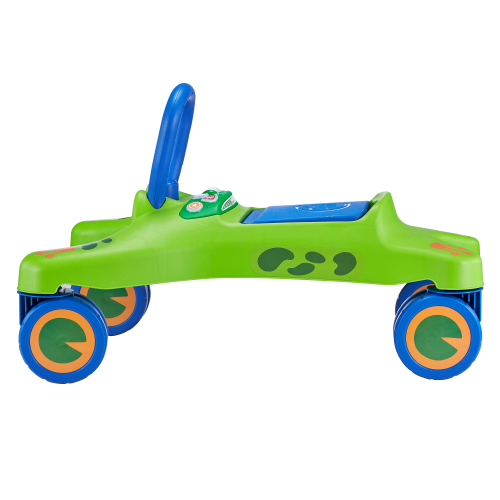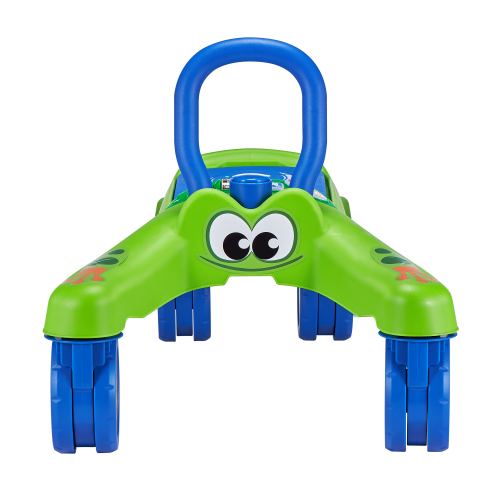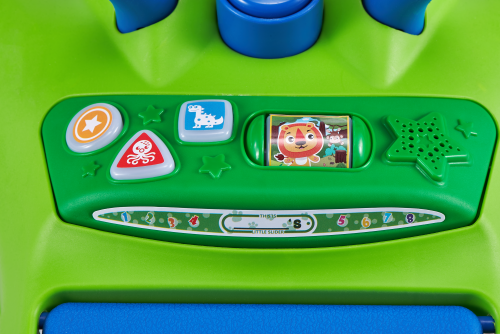 Tiny Town Slider Interactive Series 1 by ZURU
TINY TOWN SLIDER INTERACTIVE: Our Slider Interactive is animal themed and comes in two colors: green frog and white unicorn. It has a 360 degree rotation wheels that provides a wider range of movement, it has honk and an under seat secret compartment. It comes with a fun interactive board that plays music and other fun sounds! Tiny Town ride-ons don't have any bulky packaging, instead they feature a cardboard with clear and key instructions to know before using the product as no assembly is required.
KEY FEATURES:
• READY TO GO: The Interactive Slider doesn't need to be assembled, it comes ready to use.
• SAFE TRAVELS: Multi directional 360 wheels that take you everywhere, leg clearance for free movement and a strong grip handle to grab as you go.
• DANCE ALONG: Interactive dashboard with music and lights buttons to play fun music as you go.
• PACK AND GO: The seat lifts up for convenient under seat storage to keep treasures you find on the road.
• STRONG STRUCTURE: Strong design to keep kids safe and balanced as they ride.
PACK INCLUDES:
PACKAGE INCLUDES: 1 ready to use Electronic Interactive Slider (requires 2AAA batteries not included)
© 2021 ZURU Inc. All rights reserved
english
Please select your birthday.
By subscribe to receive emails from ZURU, you agree that we may use your personal information provided by you to send you marketing emails. You can opt out these emails any time by clicking the unsubscribe link or by contacting us. To see how to control your personal data, please see our Privacy Policy and Terms of Use
.
By subscribe to receive emails from ZURU, you agree that we may use your personal information provided by you to send you marketing emails. You can opt out these emails any time by clicking the unsubscribe link or by contacting us. To see how to control your personal data, please see our Privacy Policy and Terms of Use
.
Many of our toys are shaped by the creative minds of dreamers and innovators from all over the world. We welcome new ideas and cherish new relationships with inventors like you! Do you think you have a groundbreaking, unique toy idea for ZURU? We would love to here from you!
Please select your birthday.
By subscribe to receive emails from ZURU, you agree that we may use your personal information provided by you to send you marketing emails. You can opt out these emails any time by clicking the unsubscribe link or by contacting us. To see how to control your personal data, please see our Privacy Policy and Terms of Use
.
By subscribe to receive emails from ZURU, you agree that we may use your personal information provided by you to send you marketing emails. You can opt out these emails any time by clicking the unsubscribe link or by contacting us. To see how to control your personal data, please see our Privacy Policy and Terms of Use
.
Product Name
Required fields are marked with *
Overall Rating *
Click to rate!
Would you recommend this product to a friend?
Did you read product reviews online before first purchasing this item?
Where did you purchase the product?
Did you purchase this product for yourself or a gift for someone else?
You may receive email regarding this submission. Any emails will include the ability to opt-out of future communications.