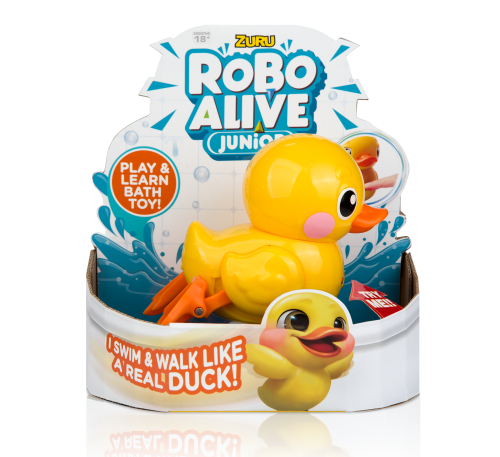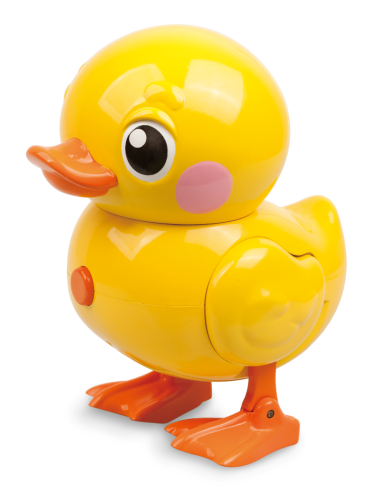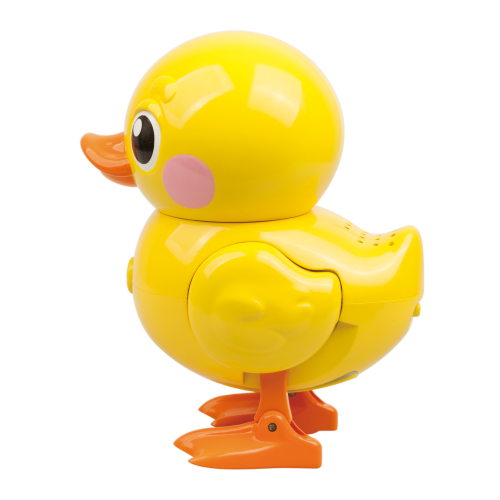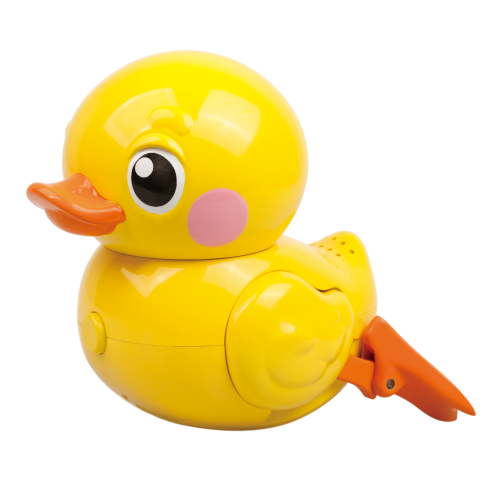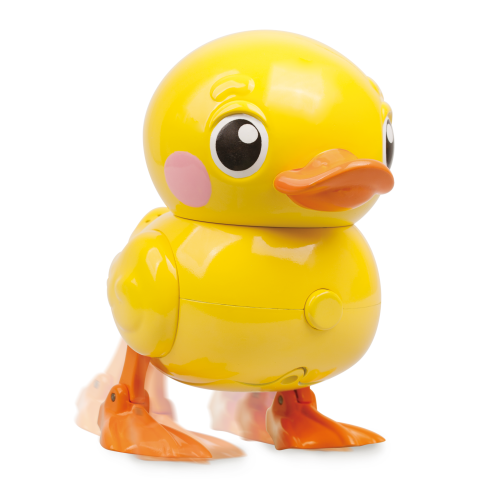 Robo Alive Junior Little Duck Battery-Powered Bath Toy by ZURU
I waddle & swim like a real duck! Bath-time really comes alive with ZURU's new Robo Alive Junior Little Duck, a play and learn bath toy! Watch me waddle, walk and swim!
KEY FEATURES:
• On/Off/TRY ME button on tail
• Stand by activation on chest
• 4 minute sleep mode (press chest to reactivate)
• Lower legs and flatten feet to walk on land Lift legs and straighten feet to swim on water
• 3x AAA batteries included
PACK INCLUDES:
1x Duck 1x Instruction Manual
Fun little Duck Toy

My little Niece LOVED this as one of her gifts from my husband and I. She is obsessed. I didn't even know it walks too on hard surfaces, we just got it for her bath times. But, it works great in water and out.

Baby approved

My little soon to be 2 year old had a blast watching this toy swim around the tub

Great buy!

A new favorite of my kiddo during his bubble bath time! We got two of these robo alive toys and it was totally a great buy!

Soooo CUTE!

These are SO cute!!! Kid loves it so much, he didn't want it to get wet, I'm sure we will on the next bathtime.

2020-09-30

by

Colleen Foreit

It as realistic as the fish. Fun for small children

Fast, best prices..

Erasure to order, great prices, fastest delivery ever seen

2020-09-14

by

Zuru Customer

IT was a gift for a birthday girl and she loves it! She specially enjoys playing with it in the pool

2020-08-04

by

Michael Efenure

nice

My granddaughter loves it

2020-07-17

by

Sherin Bass

Its a fun little tor that walks & swims in water. Very nice for kids

Cute bath toy! Toddler approved

Grand daughter loved it.

Thought it was remote controlled definitely not
© 2021 ZURU Inc. All rights reserved
english
Please select your birthday.
By subscribe to receive emails from ZURU, you agree that we may use your personal information provided by you to send you marketing emails. You can opt out these emails any time by clicking the unsubscribe link or by contacting us. To see how to control your personal data, please see our Privacy Policy and Terms of Use
.
By subscribe to receive emails from ZURU, you agree that we may use your personal information provided by you to send you marketing emails. You can opt out these emails any time by clicking the unsubscribe link or by contacting us. To see how to control your personal data, please see our Privacy Policy and Terms of Use
.
Many of our toys are shaped by the creative minds of dreamers and innovators from all over the world. We welcome new ideas and cherish new relationships with inventors like you! Do you think you have a groundbreaking, unique toy idea for ZURU? We would love to here from you!
Please select your birthday.
By subscribe to receive emails from ZURU, you agree that we may use your personal information provided by you to send you marketing emails. You can opt out these emails any time by clicking the unsubscribe link or by contacting us. To see how to control your personal data, please see our Privacy Policy and Terms of Use
.
By subscribe to receive emails from ZURU, you agree that we may use your personal information provided by you to send you marketing emails. You can opt out these emails any time by clicking the unsubscribe link or by contacting us. To see how to control your personal data, please see our Privacy Policy and Terms of Use
.
Product Name
Required fields are marked with *
Overall Rating *
Click to rate!
Would you recommend this product to a friend?
Did you read product reviews online before first purchasing this item?
Where did you purchase the product?
Did you purchase this product for yourself or a gift for someone else?
You may receive email regarding this submission. Any emails will include the ability to opt-out of future communications.