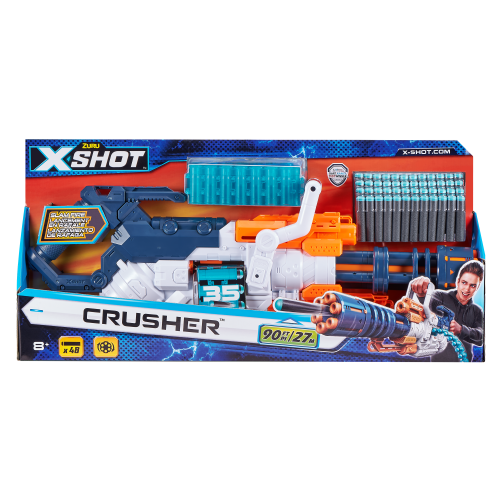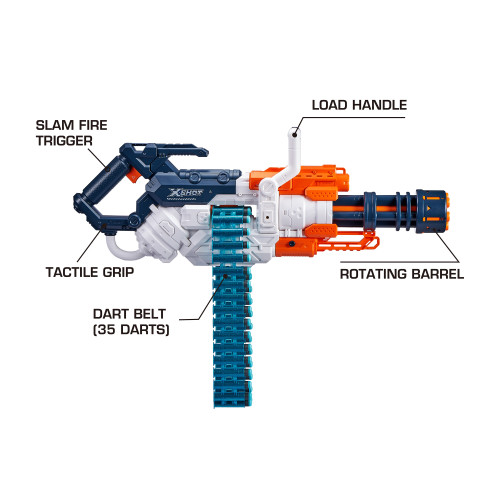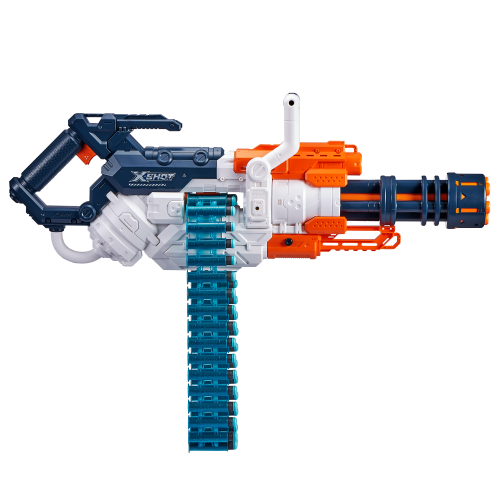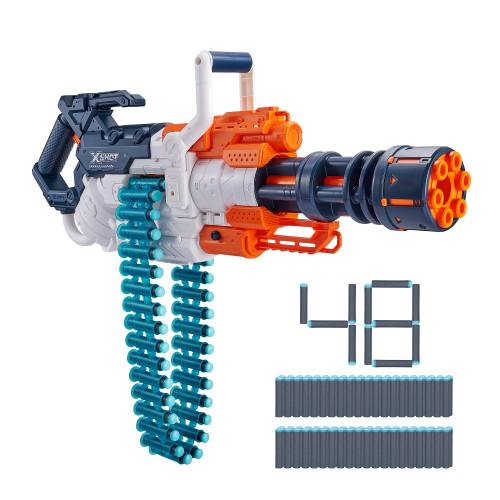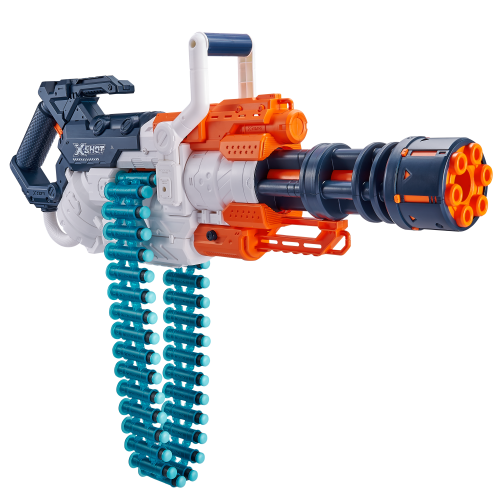 X-Shot Excel Crusher Foam Dart Blaster (48 Darts) by ZURU
The X-SHOT CRUSHER is the ultimate blaster you have been waiting for. You can annihilate your opponents with the single-shot function from up to 90ft/27m away. When the heat of battle intensifies though, unleash your 35-dart belt with Slam-Fire and take out the enemy with a inferno of flying darts.
KEY FEATURES:
• CRUSHER: the crusher 35-dart Capacity belt has an incredible shooting distance of up to 90 feet/ 27 meters, No wonder X-SHOT blasters are a three-time winner of the dartzone award
• SLAM-FIRE: When the battle intensifies, hold your finger on the trigger and use the pump action. Blast up to 4 darts per second and watch your enemies flee
• AUTO-ROTATING BELT: As you blast away, enjoy the autorotating belt ensuring you have more time blasting away.
• DART CAPACITY: Huge dart capacity with the integrated belt with 35-dart capacity.
• X-SHOT PROMISE: our mission is to deliver unbeatable value to our fans worldwide. Our 'up your game' Promise is to provide a combination of design excellence, market leading quality and unbeatable prices
PACK INCLUDES:
1x X-Shot Chrusher Blaster, 48x X-Shot Foam Darts
It is a pretty good little toy, that appears to be launching the darts from a rotating barrel, there is a single barrel in the center of the rotating look-like barrels that launches the darts. It does launch darts as rapid as you can pump the lever on top which does take the darts from the belt feed.

gave this to my son for Christmas, at first i was disappointed that it is a single shot even though the barrel spins. However, the power this thing has more than makes up for it. My cousins and uncles got ahold of it and the power went right to their head... xD they would give out a evil laugh and then look for a target to relentlessly blast.DO NOT give this to small children, I would recommend your child is at least 10 or they may find this to very un-fun to get hit with xDAlso wtf is this rating for Warmth and Stretch? LOL

I thought it might have been powered by batteries and fully automatic, but you have to cock it for every shot. Looks like a Gatling gun but isn't. However my son loved it and that's what matters most.

I mean it's cool, Clip is a pain, none of my bullets fit for it, so kinda disappointed. But it's cool

Awesome purchase! My son loves it! Shoots far distance, great quality!

Awesome product and awesome communication from the seller. Super helpful I would order from them 10/10 times. Thank you!

This gun is very powerful. The child needs to be very knowledgeable about gun safety, because the power of this gun could cause a bruise if the child victim is too close. My grandson accidentally shot a friend of mine in the deltoid and it left a little bruise on her and she's a grown woman, so it can be powerful. It is what it advertises!

My daycare kids have fun with these dart guns!

Great for the price. Huge gun. Not terribly accurate but fun. Rapid fire works well (you will get an aerobic workout). Chain belt feeds through well can be added to and comes with extra darts. Knocked off 1 star for difficult packaging and no instructions on assembling chain or how to install it (you have to feed it through by cocking and firing several times and then make the last connection to make it a loop). Also gun design makes it hard to load a round into the most recently fired chain casing. Still a great gun!

This toy is the new gaming device for me and my 12 years old. It has a really nice range and the speed at which those cartridges shoot out, it's just amazing. We love it.

Tons of fun, well made blasters

Bought two of these for my 7 y/o daughter to fight with her sisters. Good quality and light enough for her to operate. They are an absolute blast.

Boys

These are awesome and my boys are going to love them

Black Friday special. Huge for the small price!

Way bigger than expected! Great gift. Boys loved it!

The hit of every nerf party!

What a hit! My boys recently found the love of the foam dart world and they play non stop! This is their favorite nerf gun to date! Not near as heavy as it looks. It's big but very light weight!