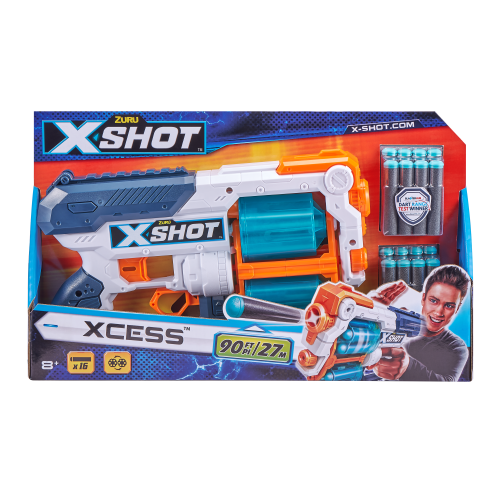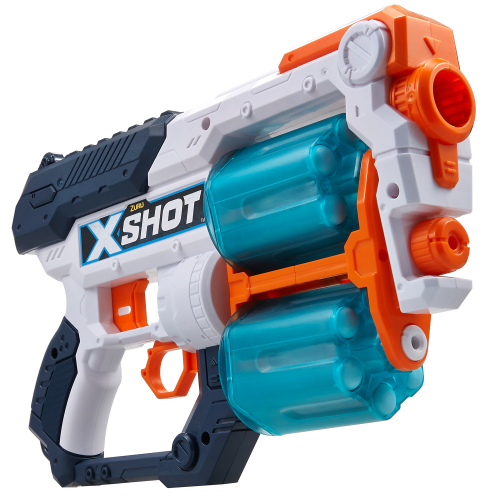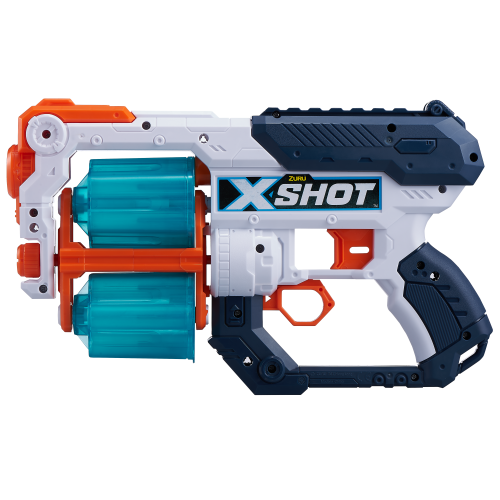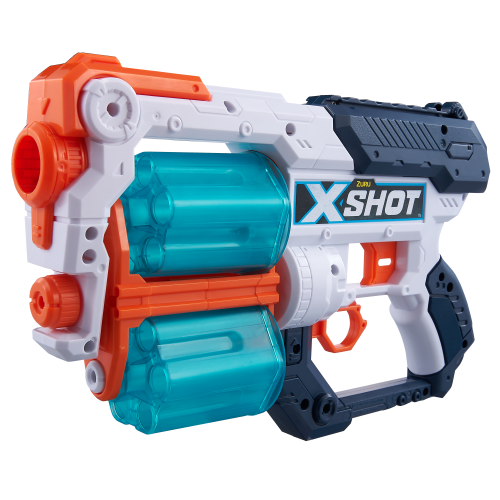 X-Shot Excel Xcess Foam Dart Blaster (16 Darts) by ZURU
With a pull to prime mechanism and a dual ammo system firing both discs and darts, from a special rotating double barrel system, your opponent won't know what hit them!
KEY FEATURES:
• DART CAPACITY: 6 Dart Capacity (each) Dual Rotating Barrel
• NEVER RUN OUT OF DARTS: Flip the drum over for another 6 shots!
• AWARD-WINNING AERODYNAMIC DART: Dart-Range Award Winner
PACK INCLUDES:
1x X-Shot XCESS Blaster
16x X-Shot Foam Darts
© 2021 ZURU Inc. All rights reserved
english
Please select your birthday.
By subscribe to receive emails from ZURU, you agree that we may use your personal information provided by you to send you marketing emails. You can opt out these emails any time by clicking the unsubscribe link or by contacting us. To see how to control your personal data, please see our Privacy Policy and Terms of Use
.
By subscribe to receive emails from ZURU, you agree that we may use your personal information provided by you to send you marketing emails. You can opt out these emails any time by clicking the unsubscribe link or by contacting us. To see how to control your personal data, please see our Privacy Policy and Terms of Use
.
Many of our toys are shaped by the creative minds of dreamers and innovators from all over the world. We welcome new ideas and cherish new relationships with inventors like you! Do you think you have a groundbreaking, unique toy idea for ZURU? We would love to here from you!
Please select your birthday.
By subscribe to receive emails from ZURU, you agree that we may use your personal information provided by you to send you marketing emails. You can opt out these emails any time by clicking the unsubscribe link or by contacting us. To see how to control your personal data, please see our Privacy Policy and Terms of Use
.
By subscribe to receive emails from ZURU, you agree that we may use your personal information provided by you to send you marketing emails. You can opt out these emails any time by clicking the unsubscribe link or by contacting us. To see how to control your personal data, please see our Privacy Policy and Terms of Use
.
Product Name
Required fields are marked with *
Overall Rating *
Click to rate!
Would you recommend this product to a friend?
Did you read product reviews online before first purchasing this item?
Where did you purchase the product?
Did you purchase this product for yourself or a gift for someone else?
You may receive email regarding this submission. Any emails will include the ability to opt-out of future communications.