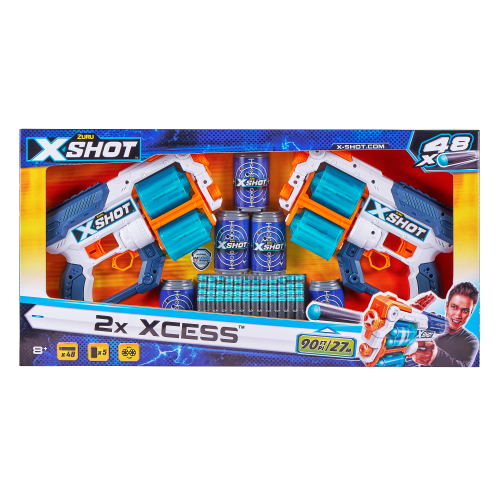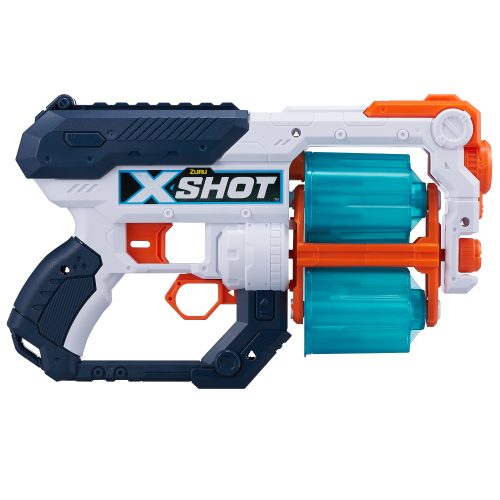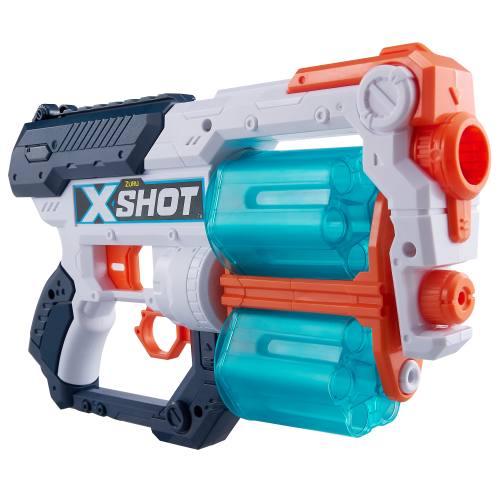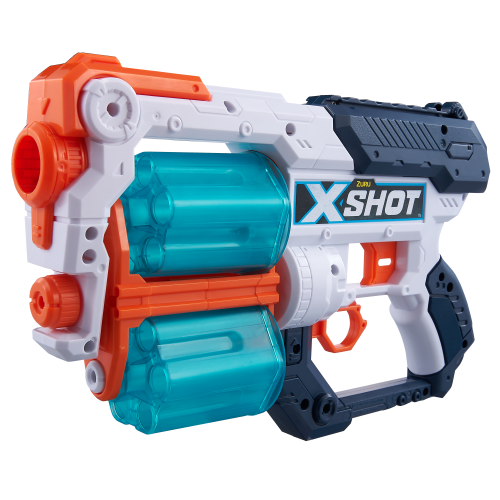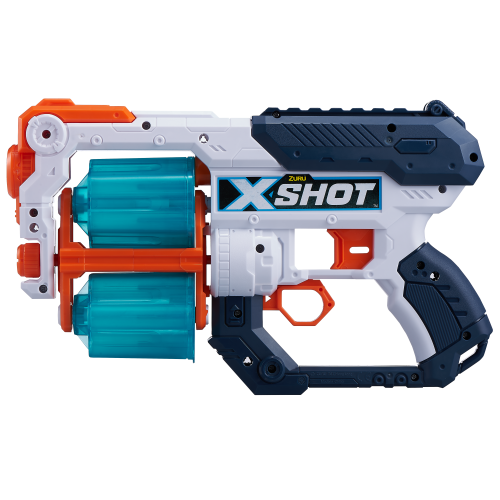 X-Shot Excel Double Xcess Foam Dart Blaster Combo Pack (48 Darts 5 Cans ) by ZURU
Double the blasters, double the ammo and double the fun! With a pull to prime mechanism and a dual ammo system firing both discs and darts, from a special rotating double barrel system, your opponent won't know what hit them!
KEY FEATURES:
• XCESS: Shoots darts up to 80ft/24m
• DART CAPACITY: 6 Dart Capacity (each) Dual Rotating Barrel
• NEVER RUN OUT OF DARTS: Flip the drum over for another 6 shots!
• AWARD-WINNING AERODYNAMIC DART: Dart-Range Award Winner
PACK INCLUDES:
2x X-Shot Xcess Blasters 5x X-Shot Target Practice Cans 48x X-Shot Foam Dart
I bought these from Walmart & are totally worth the price. Just as described they shoot up to 90 feet on some occasions. Mostly I can reach 80-85 feet. The original dartz that came with are decent but not the best I suggest to get the Ray Squad 300 Pack Black Foam with Red Tips Koosh Darts these will definitely improve accuracy when firing.I love the color scheme just wish all orange was a dark blue with everything else. Original featured a dark blue on the barrel itself wish they brought it back. I know I'm a minority when it comes to this but I prefer the disk to return because I like the idea of an alternating firing method & not to be fired at the same time with the foaming dart. They just have to design a more powerful disk & strong firing mechanism for the disk. If you want to really sell this feature a secondary fire or battery operated version of this weapon should be considered. I really wish the barrels can fully rotate & lock on their own without any assistance from me.

Lots of fun.

Great item! I got this during a flash sale for my 5 year old daughter and she loves it!

good item holds a couple of nuffs easy to load was a good value well made

Still working after months of use

Worth it. It packs a punch and you can't beat the price.

great product, great value.

I bought this for my son and he loves it! Super awesome price for such a great toy!!

I bought this blaster at a Ross, but seeing as it's the same blaster, I'll post my review here.I'll go over the pros first:Performance: Pretty decent, with fps readings in the high 70's to the low 80's.Reliability: I've fired hundreds of darts, and have yet to have a malfunction of any kind, even when flipping the cylinders quickly.Price/Color: For what you get, it's pretty cheap, and it looks really cool with the white and blue color scheme.Cons:Size: It's honestly a niche size, being a front loading pistol that's a bit too big to be a secondary, and too small to be a full blown primary.No Slam Fire: The Nerf equivalent, the Flipfury, has the capability to use slam-fire, which allows a springer like this to become practically semi-auto. This doesn't have that.Cylinder rotation not automatic: Another thing the Flipfury brings is being able to flip to the other dart cylinder without needing to tough it or move it. With this option, you'll need to manually flip to the other cylinder, although it's loose enough to where you can do it one handed with a little practice.Overall opinion:I really enjoy this blaster as a semi-primary. For me, it's downsides are minimal to me, and it has the performance I need without needing to modify it. If you're gonna use this in a game, I'd recommend getting some pistols you can draw from the side as a backup for a full on pistol build. Or just use it as a fun plinker around the house. Either way, a 9/10 blaster all the way.