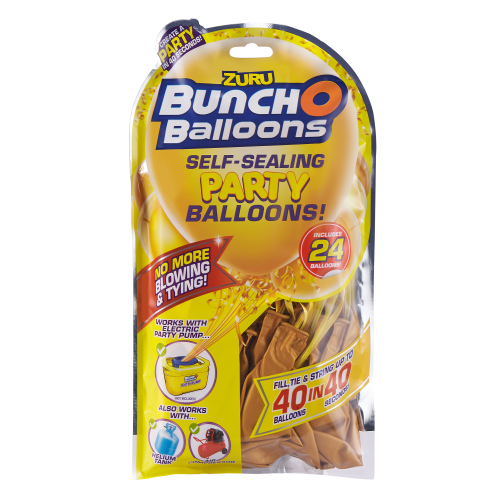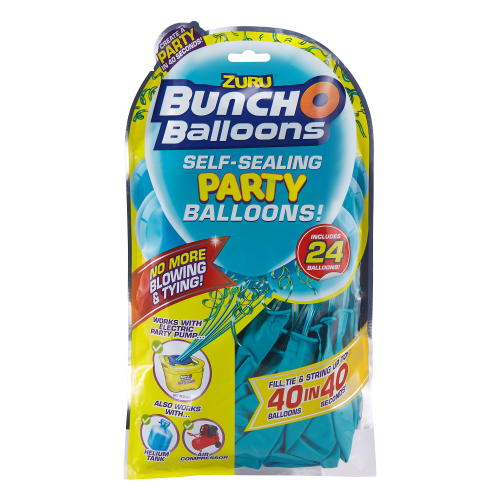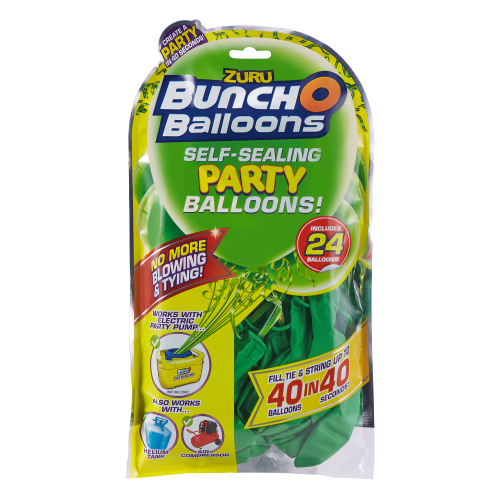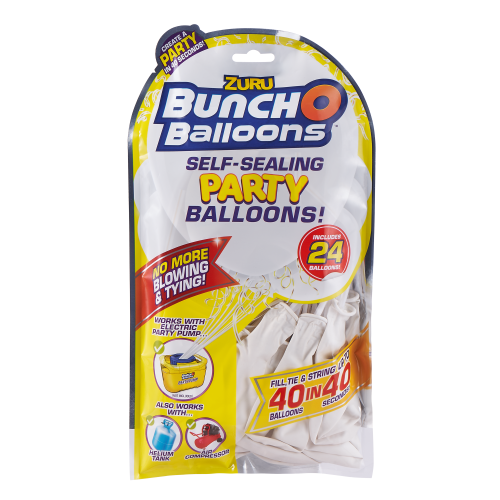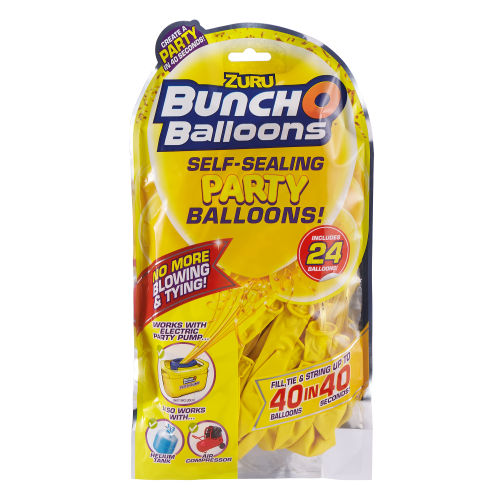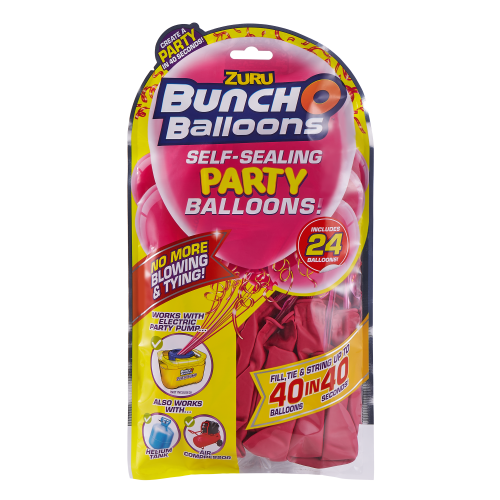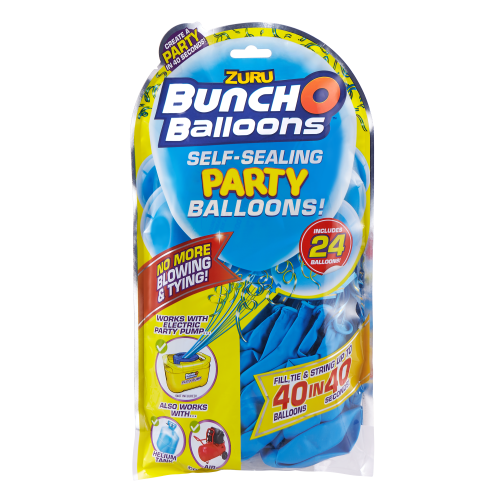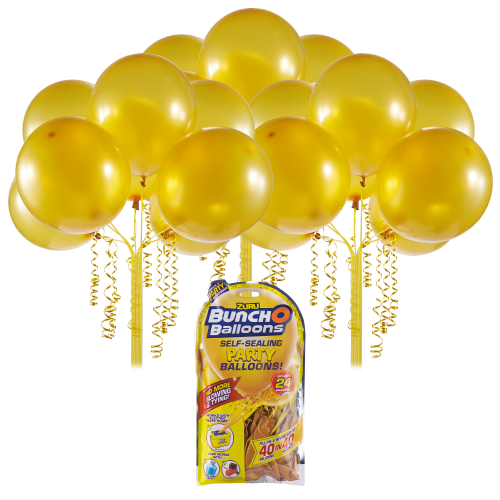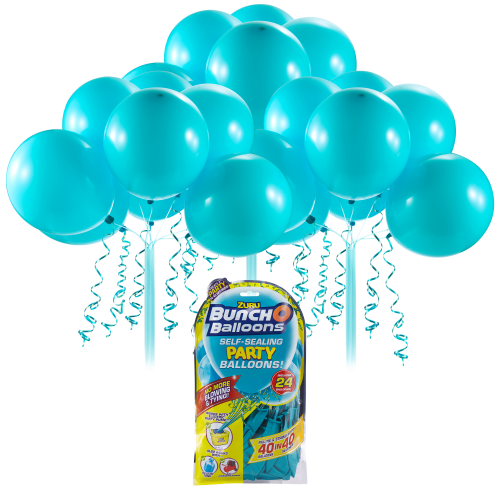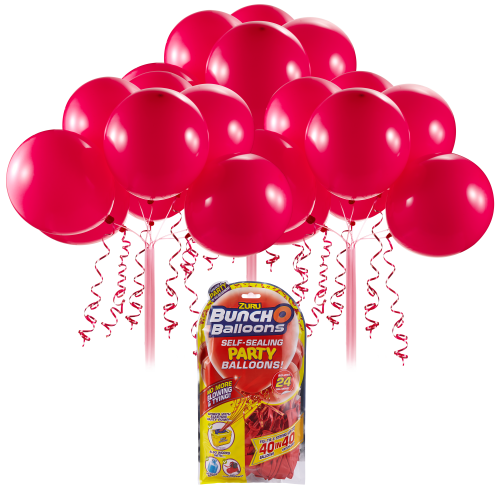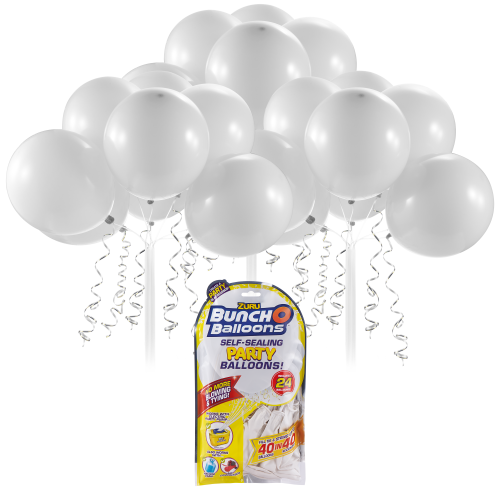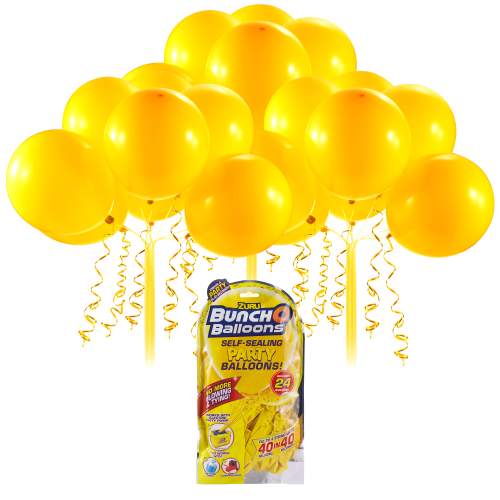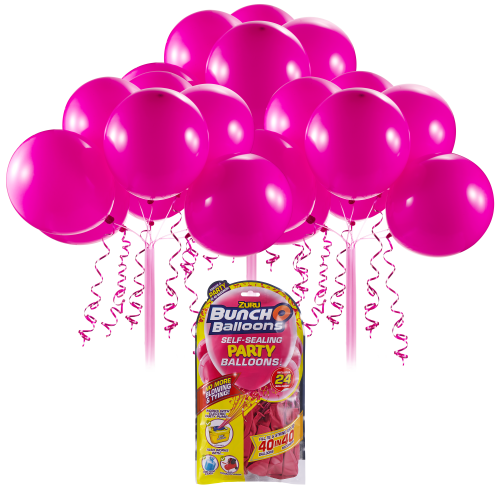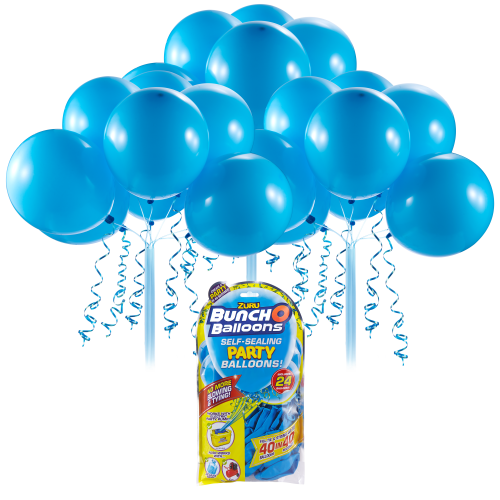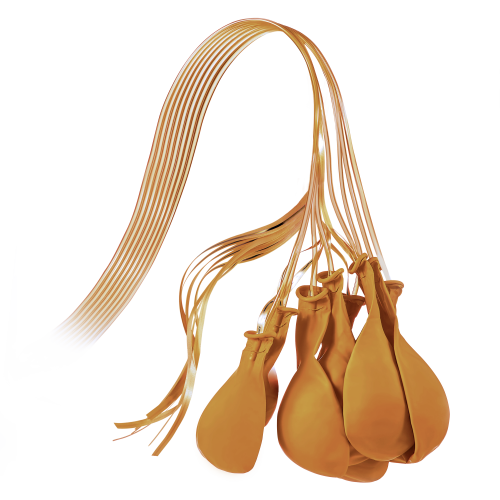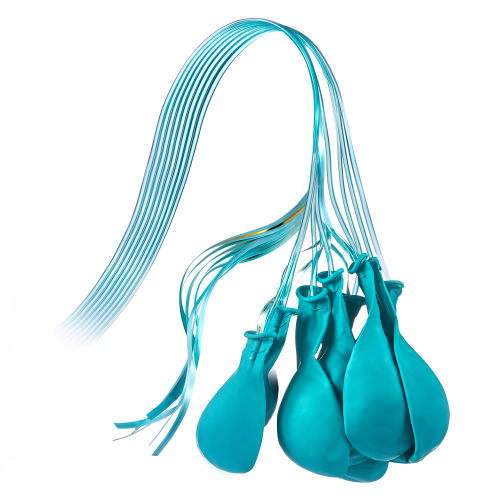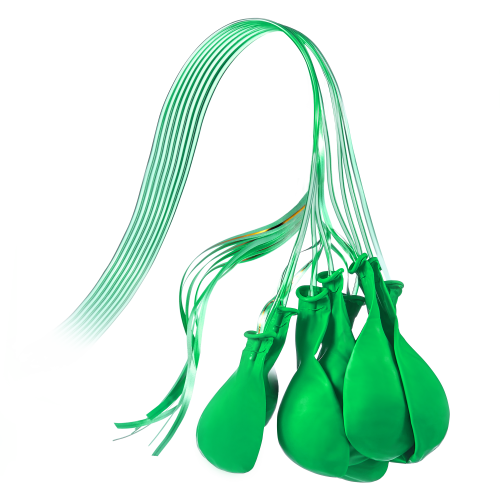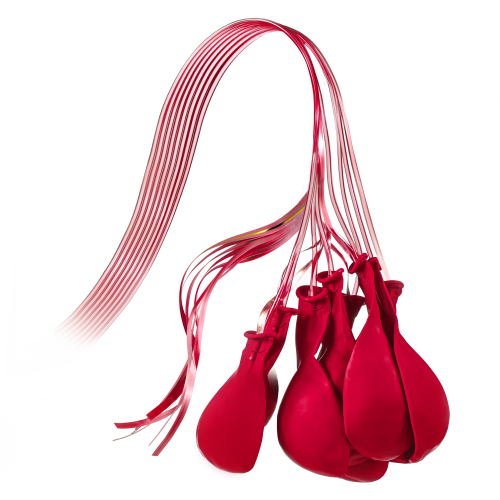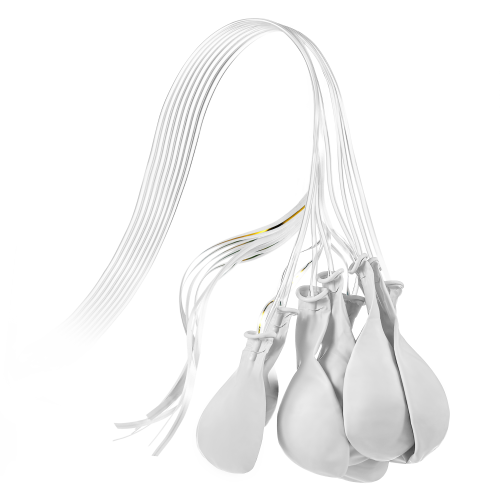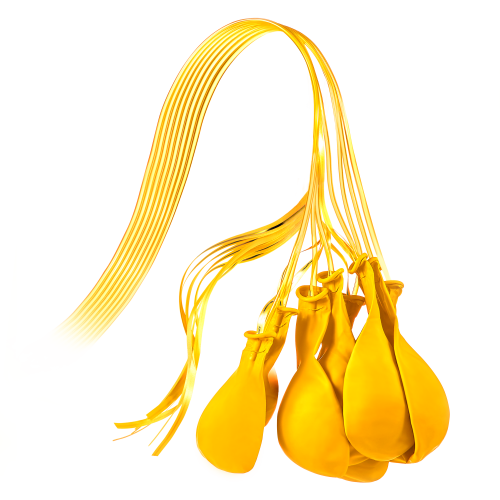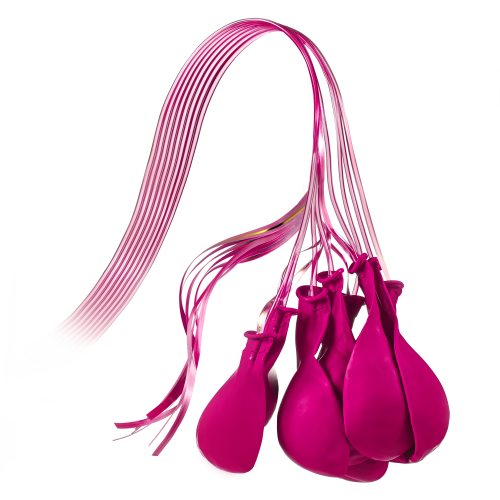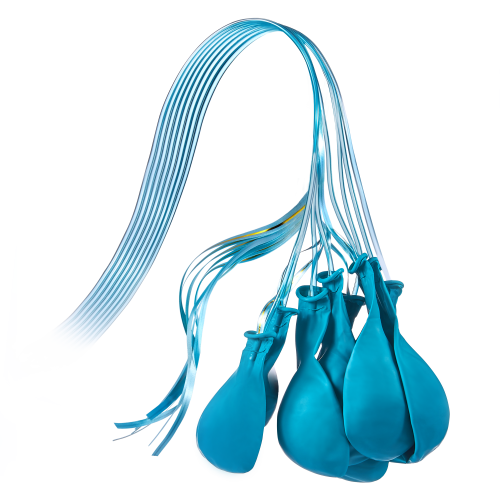 Bunch O Balloons 24x 11 Inch Self-Sealing Latex Party Balloons by ZURU
Save time and your breath with ZURU Bunch O Balloons Self-Sealing Party Balloons! Fill, tie and string up to 40 party balloons in just 40 seconds! There's no more blowing, no more tying and no need to add ribbon or string! Each Refill pack includes 24 party balloons and our handy helium adaptor which allows you to take your balloons to the next level by filling with helium! So join the party and choose Bunch O Balloons Self-Sealing Party Balloons, the brand that lets you Prep Less, Party More!
KEY FEATURES:
• PREP A PARTY IN 40 SECONDS: Fill, Tie and String up to 40 Balloons in 40 Seconds!
• RIBBON PRE-ATTACHED & SELF-TIE BALLOONS: High Quality Self-Sealing and Ribbons Attached 11 Inch Party Balloons. Perfect for Party Decorations.
• INNOVATIVE DESIGN: Revolutionary Patented Design That Lets You Save Your Time and Breath!
• RECYCLABLE: Bunch O Balloons stems and caps are now made from 100% certified recycled plastic and all Bunch O Balloons pieces and packaging can be recycled with TerraCycle
• MULTIPLE USES INCLUDING HELIUM: Comes with helium adaptor to fill 8 balloons in seconds. *Electric Party Pump Needs To Be Purchased Separately
PACK INCLUDES:
3 x Bunch O Balloons Party Stems (24 Air Balloons) 1 x Helium Tank Adaptor
Expensive but it keeps the kids busy for an hour.

Super cool ! For birthday party

Very convenient

Having 24 balloons for less than $10 is awesome. Different color combination is available too which is cool. Really wished I bought these and the pump sooner.

Love

My girl loves balloons! These are great and so easy. These are the refills. Which I love if you buy the machine you can buy the refills. These are great for any partys you are having.

Love them!

So much easier and fun to inflate. Life saver for arthritic fingers!!

Best Bunch of Balloons

Theses balloons are great for parties and or just to have fun. Who doesn't love balloons. They are easy to inflate even if you dont have the machine that goes with them. We just used the attachment that comes with them.

Great idea.

What a great and fun idea. I liked that I didn't have to blow the balloons up, but was sad that six of the eight white balloons popped. If it wasn't for that then I believe I would have given these five stars.

The best

These ballons are the best and they stay up long

Fast, easy and perfect for the occasion

Love it!

I love this! I bought several of these to use at a graduation party for my daughter and they worked wonderfully. Saved me so much time!

Good price overall check color/not bad

My fault: I didnt read they were white and went off the picture. Didn't match the theme. A lot of balloons for a good price if you have an air compressor. Only one balloon that wouldnt fill.

I was able to inflate multiple bunches of balloons at one time which made the surprise party great

I love these ballon kits. Great for parties!!

Love the ease of this project -

This is a perfect fix to parties -

Worked really fast, I would definitely buy again!