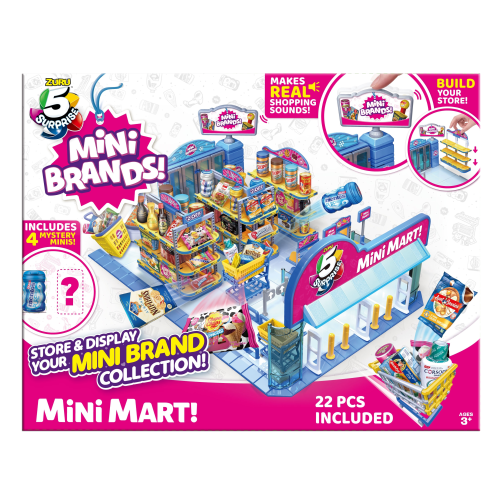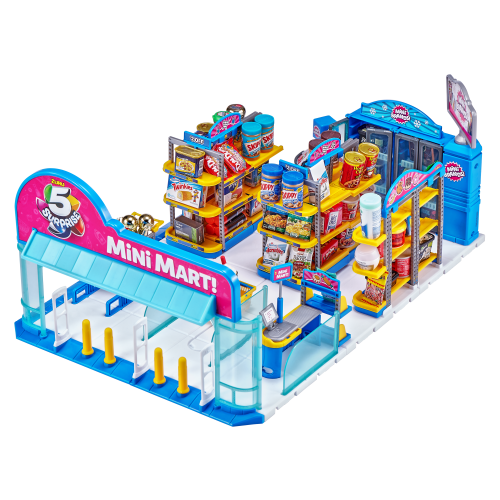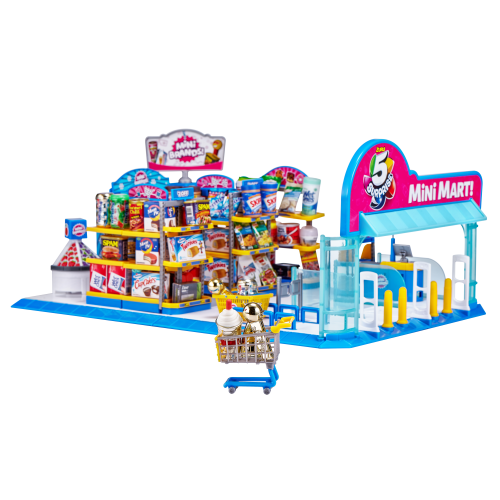 5 Surprise Mini Brands Electronic Mini Mart with 4 Mystery Mini Brands Playset by ZURU
5 Surprise Mini Brands Mini Mart is the ultimate way to store and display your mini brands collection, by making your very own little shopping world! Collect more mini brands capsules to add more accessories and minis to your collection!
KEY FEATURES:
• STORE & COLLECT ALL YOUR MINI BRANDS: What better way to display your collection of real mini brands than in a mini shopping world? Unbox 4 minis with the mart, then collect more capsules to add minis to your shelves!
• UNBOX, BUILD & CUSTOMIZE: Build up your mini mart including store front, 5 shelves, 1 cash register, and 2 accessories, then customize it by collecting more shelves, cash registers and accessories in 5 Surprise Mini Brands capsules to expand your mart! Mini Brands capsules sold seperately.
• COME WITH 4 MYSTERY MINIS: Every Mini Mart comes with 4 mystery minis to start stacking your shelves.
• CREATE A MINI SHOPPING WORLD: Build out your mini mart, fill your shelves with mini brands collectables, pack your cart and push your trolley through the aisles as you pack and shop over 100 real mini brands
• Tap the Mini Mart sign for real Mini Mart sounds as you shop, creating a real shopping atmosphere!
PACK INCLUDES:
Each Mini Mart includes 22 pieces to build your own little shopping world, including base plate, storefront, shelves, freezer, cash register, electronic features with real shopping sounds and 4 mystery minis!
If your looking for something to do that will take a lot of time and have a million pieces then you found it. This is a challenge to put together and does not like to stay that way once you get it together. Your kids will have half the pieces missing before you realize they need help. Lol good luck.

Took my niece hours to install, pieces are very hard!!

My daughter is absolutely in love with this and opened this up as soon as she got it for Xmas. She was so happy to display all her minibrands she been collecting for months now. This came with alot of pieces and turned out so cute. We r extremely happy with this.

Well all I can tell you is my granddaughter loved it!

Cute product for young girls......lots of small pieces though.

My daughter was very happy with this. Overall it was worth it but the shelves are a little flimsy and lean forward. The mini brands barely fit on the shelves and I wish it came with more shelves and a second checkout. But other than that it was good.

My girls love it they gave it a 5 ?

I believe it was missing a few pieces

Pain to put together and provides stickers and instruction for a piece of the market that is not even included in the box, that is an essential part of the market.

Nice

Cheaply made! Definitely not worth the price. Box is very misleading shows the Lil grocery store with pieces that do. It come with it. Even sends the stickers an some pieces for said uncluded pieces which makes no sense an is very confusing. Pain in the butt to put together an the shelving sections are so cheap! Stickers won't stay on very disappointed. If my daughter didn't love I would send this piece of crap back!

After 15 minutes I realized the floor pieces were labeled INCORRECTLY by the manufacturer. I re-labeled the parts (see photo). After that, every thing went fairly smoothly. The only other complaint is that the black and white instructions did not indicate the color of the parts. There are like 100+ parts to put together. But eh, we got it done in about an hour - oh, and the box arrive without packaging so my daughter knew about her this Christmas present in October.

Your browser does not support HTML5 video. Could use more shelves and bigger ones but you can get shelves and carts in the extra balls. The minis fall off very easily so I found using the adhesive dots used for scrapbooking work great!! Put a sticky dot under each mini and place it on a shelf and they stay in place. My video shows all my daughters mini's all stuck with the dots. Great display case for these!

I want to say a huge thank you to Amazon for helping me get this product after being screwed over by a 3rd party seller "e-quality llc" stay away from them they are scam artists! Amazon went above and beyond to help me get this present for a little girl who needed an extra special Christmas! She loved the toy! Although I thought it would come with more of the "items" she loves it he market! Thanks again Amazon!

Its a good Market