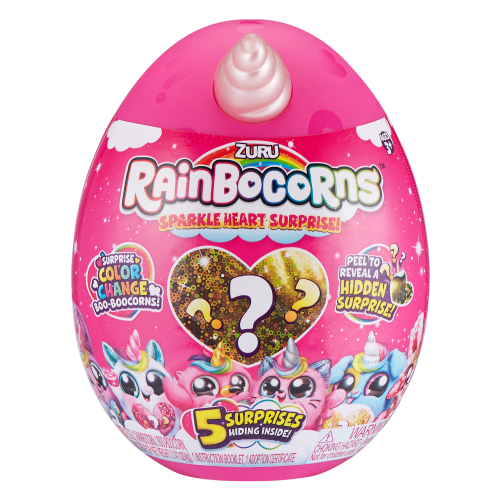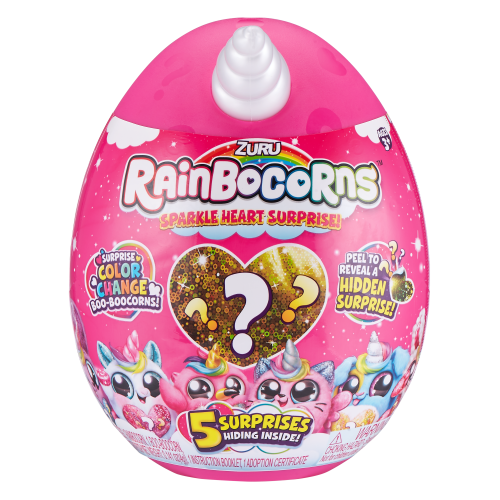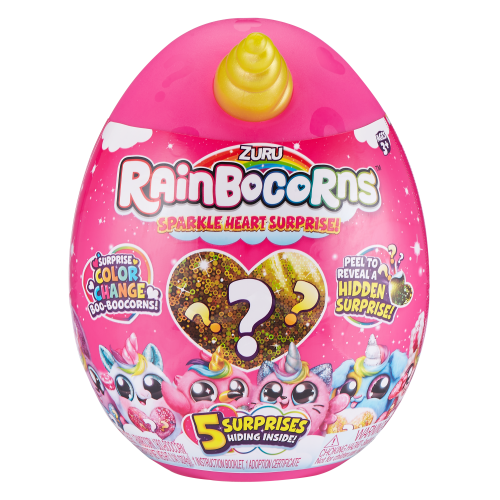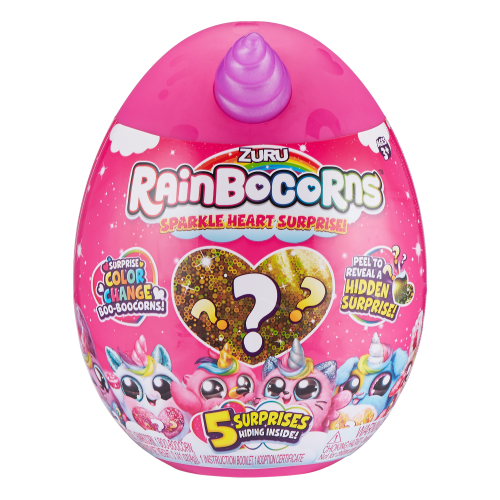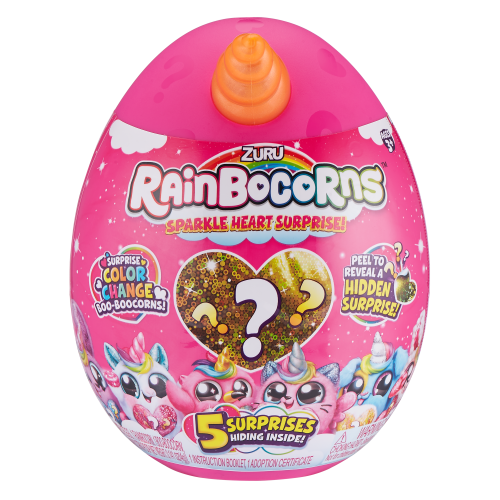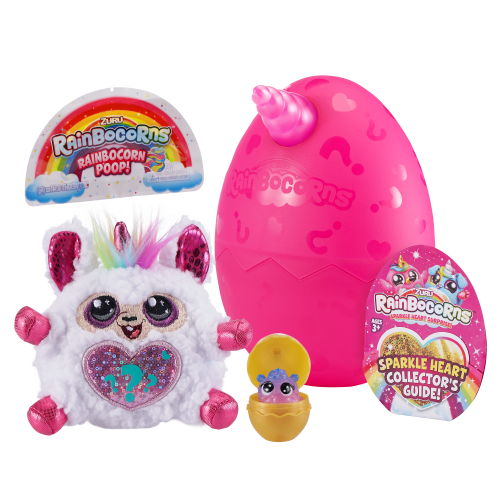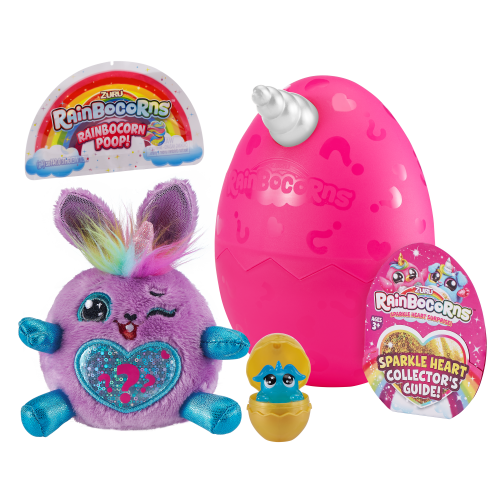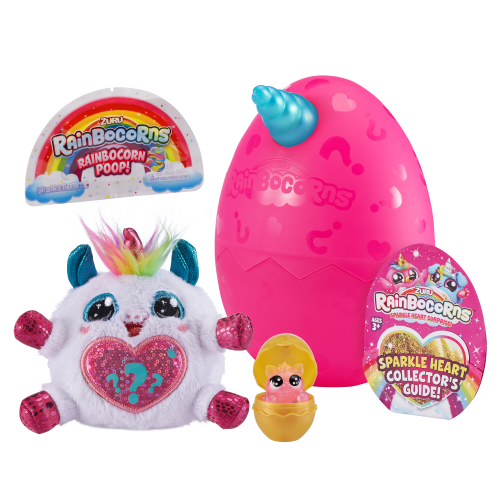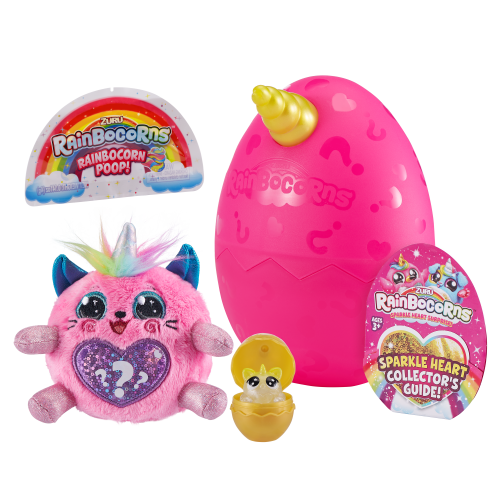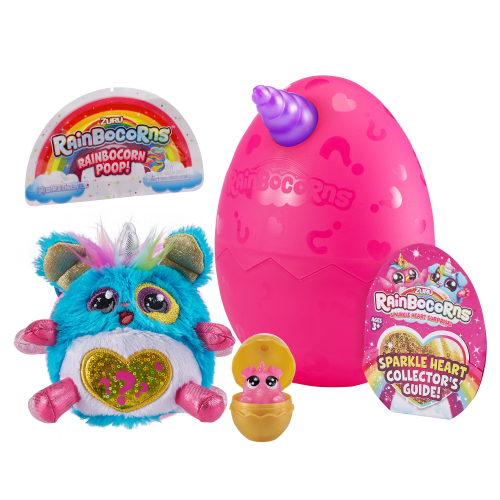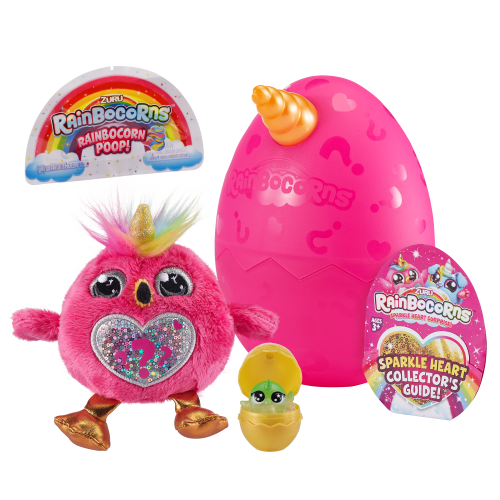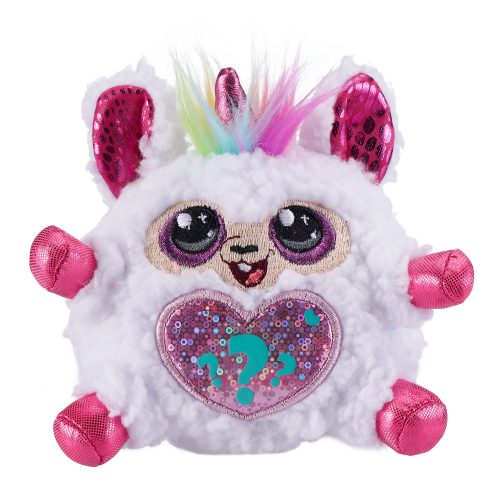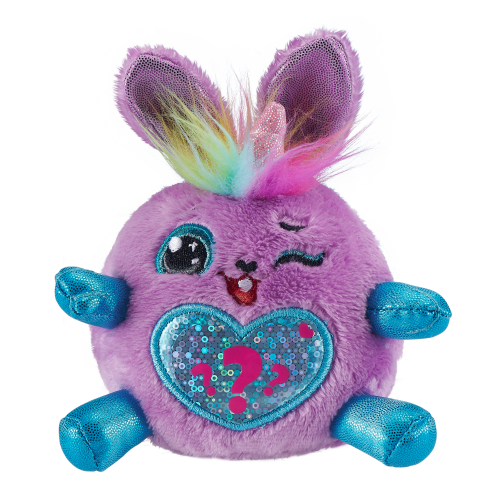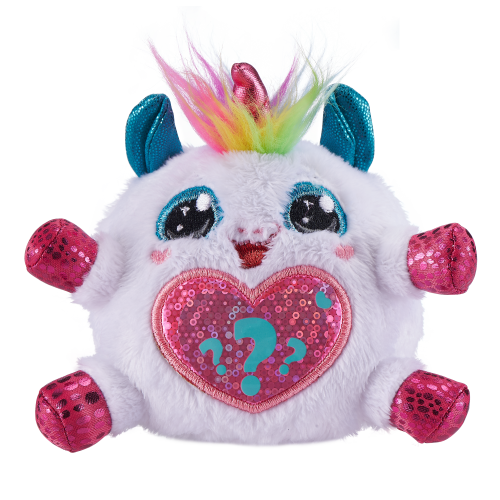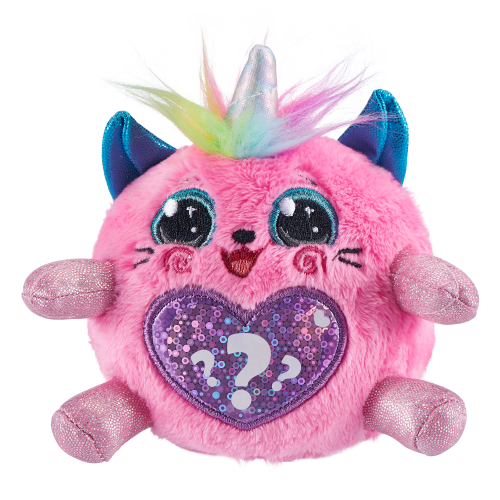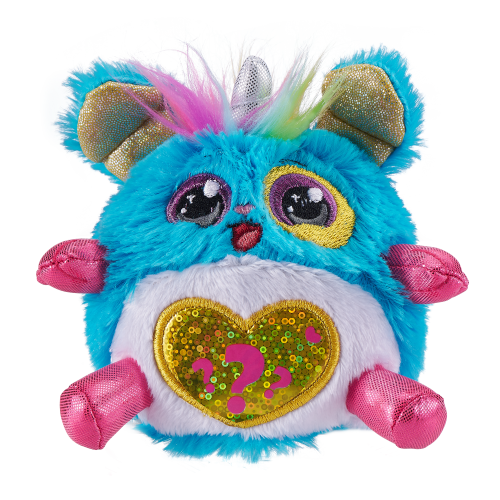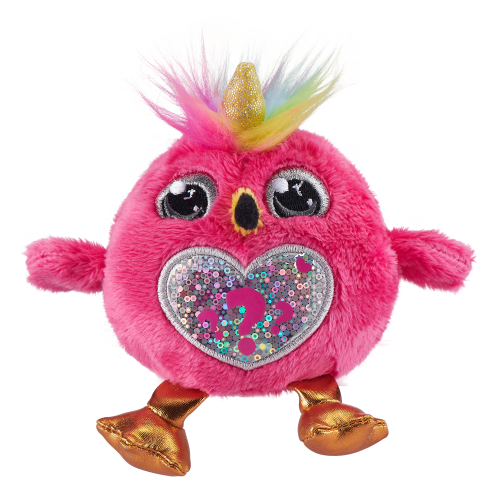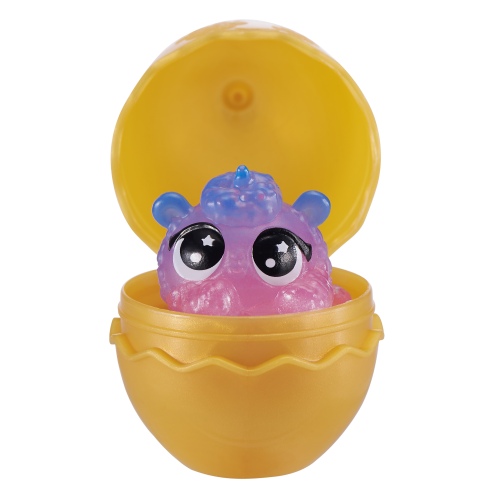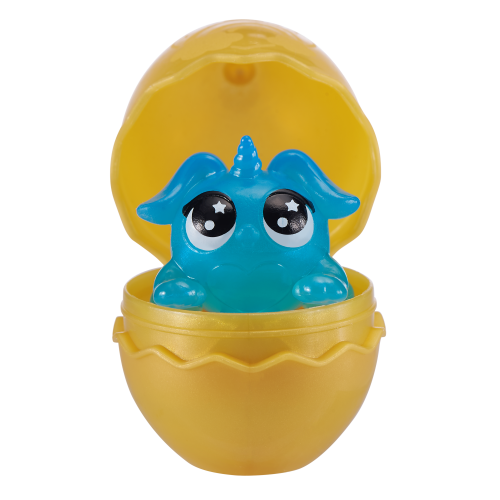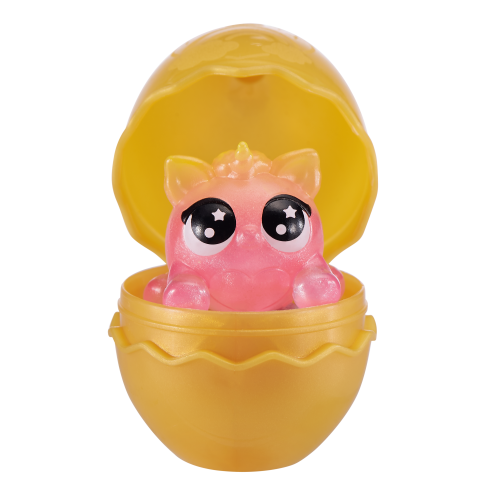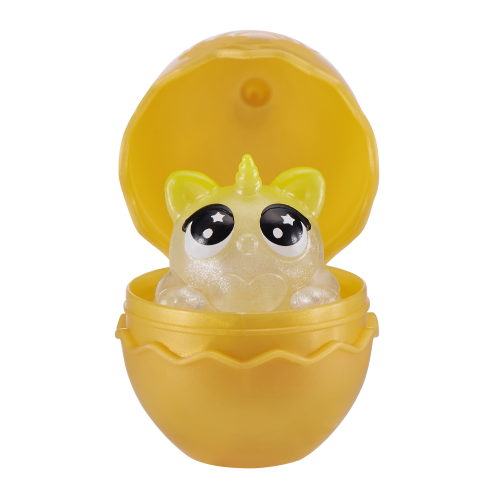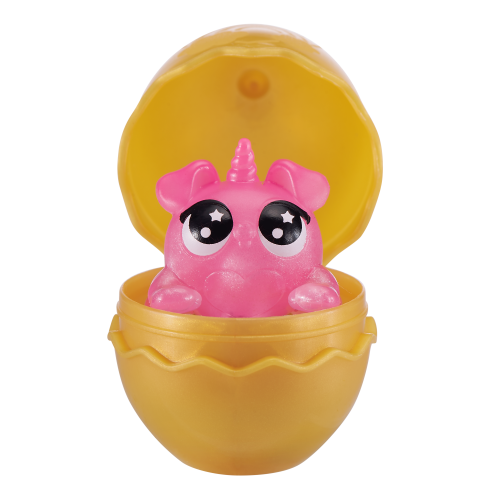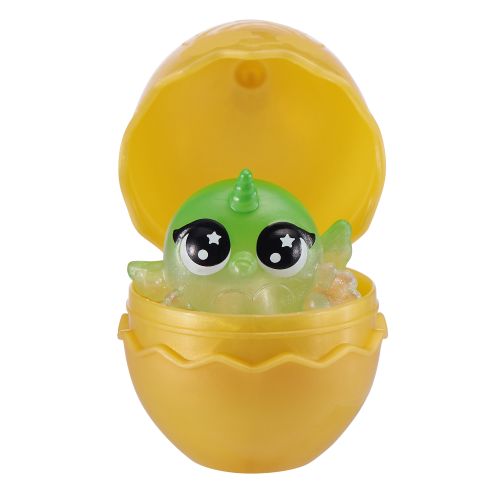 Rainbocorns Sparkle Heart Surprise by ZURU
Unbox a Sparkly Surprise with the new Rainbocorns Sparkle Heart. Each mini Rainbocorn comes with a sparkly heart that you can peel to reveal a hidden surprise! These soft and cuddly Rainbocorns come with all new colour changing Boo-Boocorns, just dip them in cold water and they transform before your eyes! Collect all 6 new Rainbocorns.
KEY FEATURES:
• What secret will your Sparkle Heart Surprise reveal? There are 6 to uncover!
• Collect all 6 adorable plush including the Unicorn, Puppycorn, Flamingocorn, Llamacorn, Bunnycorn and Kittycorn.
• Unbox all new colour changing Boo-Boocorns, there are over 18 to find!
• What colours of the Rainbocorn poop will you find? Squeeze it and stretch it, it expands 30 times in size!
• Cuddle your soft and squishy Rainbocorns and store them in the reusable egg!
PACK INCLUDES:
Every egg includes a collectable pink egg, Sparkle Heart Rainbocorn plush, Rainbocorn Poop, all new color changing Boo-Boocorns and collector's guide.
Extremely cute, and quite a few items inside.

Small

First time buying this for my daughter. She loved it but it was smaller than what I thought. The poop smells really good. The little friend does not turn colors when put in water, hot/cold..

Cool

These are so cute and well priced. I bought 3 for my granddaughters. They love them !

Super cute

Exactly what my daughter wanted

I got this for my niece and she loved it.

wish it was a little more

We were surprised to see much less things to open in this one compared to the smaller balls surprise toys from this brand. But did enjoy the names and other little pet in the egg!

Very happy came early and was just what I ordered

Cute stuffed animal and the "unicorn poop" or the play doh smells amazing lol my daughter says strawberry

surprise surprise

so beautiful. my daughter loved unboxing this. i thought it was just a stuffed animal but it came with little accessories and cute surprises.

Overall a good toy

My daughter picked this toy out last month. It is super cute, comes with a tiny egg with a little figure in it. Once you open the egg, there's a stuffed animal and you peel the heart to see which one you get. My daughter does wish the animal or heart smelled like what it shows, example: a hotdog. The unicorn poop included lasted a few weeks, sticker to her hands in the end and was hard to wash off. Closing the egg takes a few mins, frustrating trying to close it.