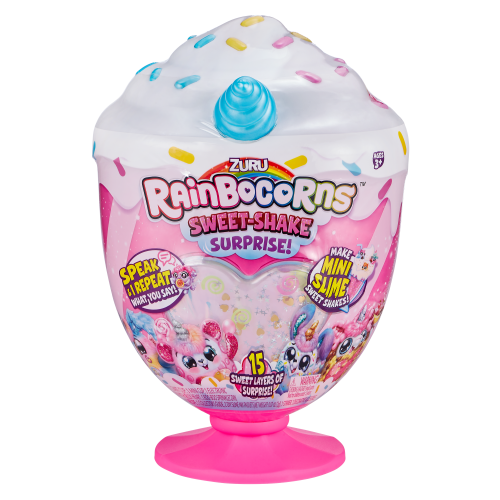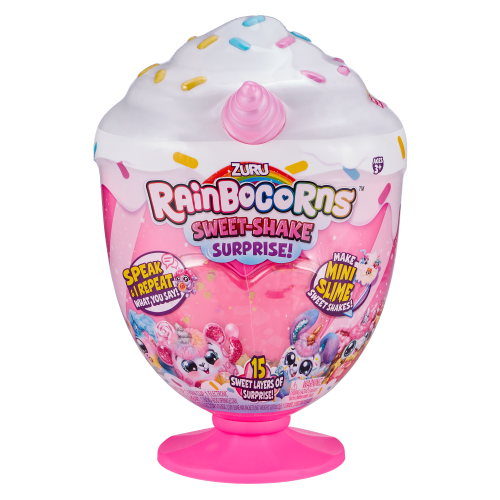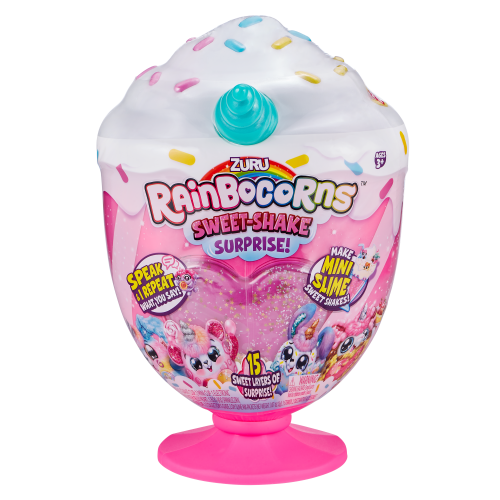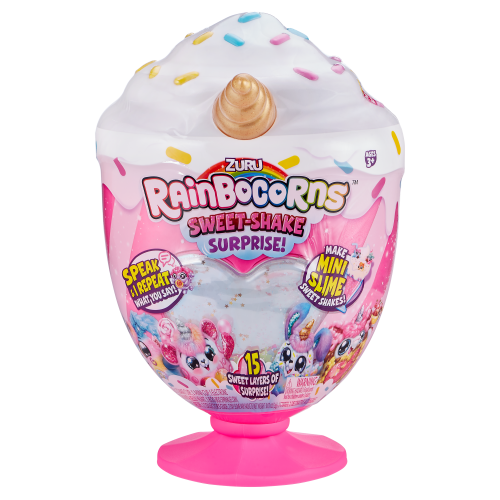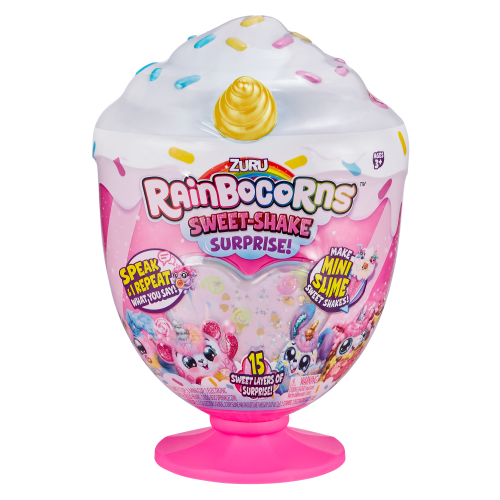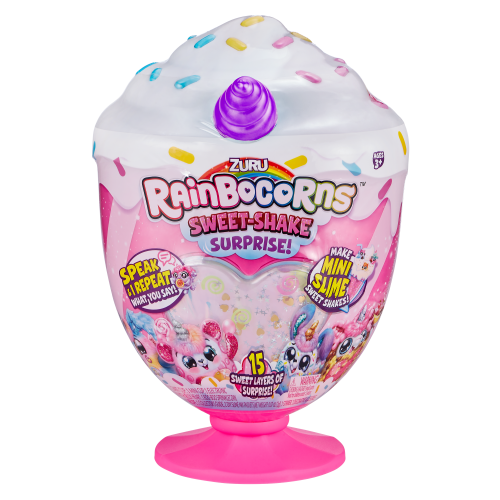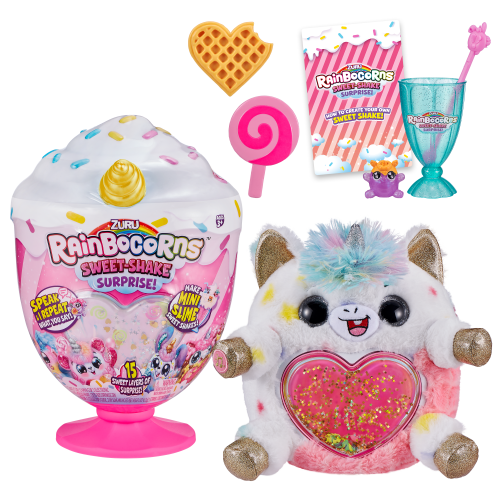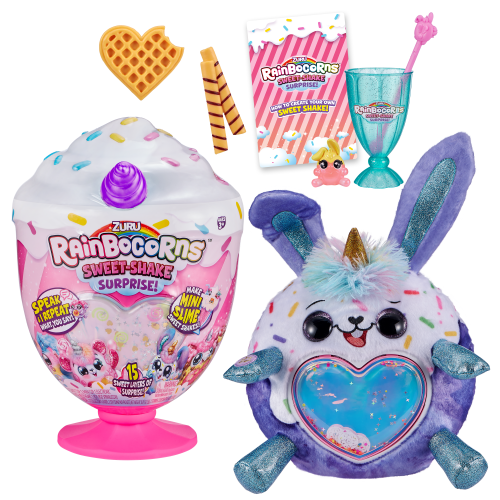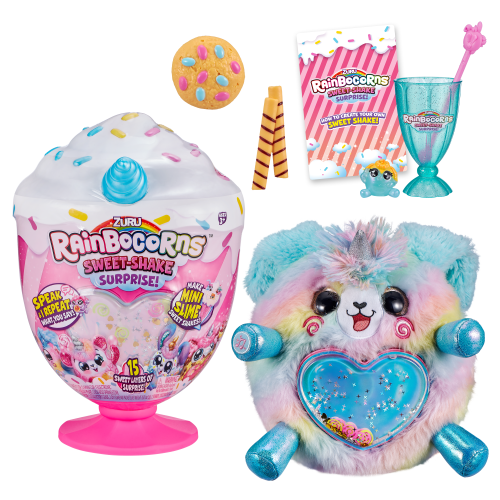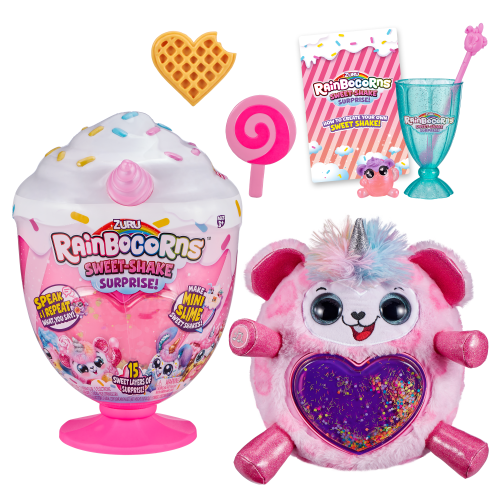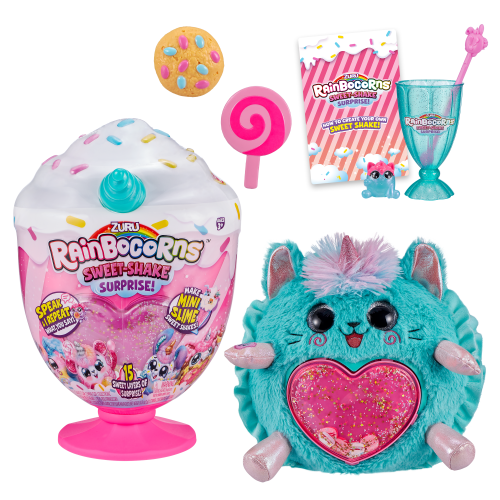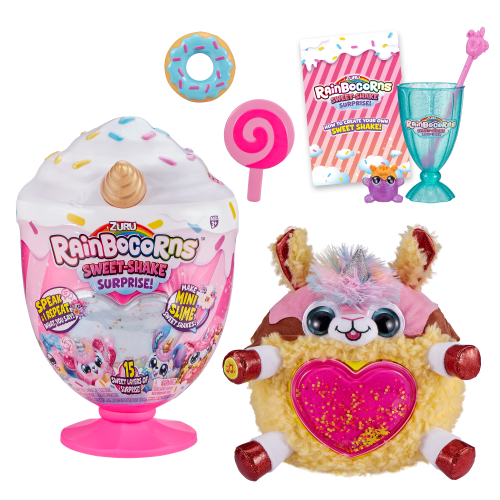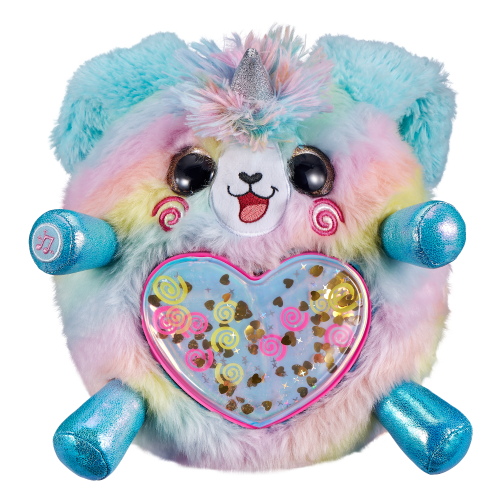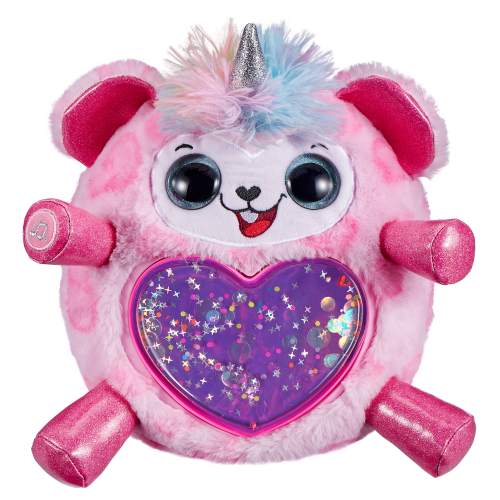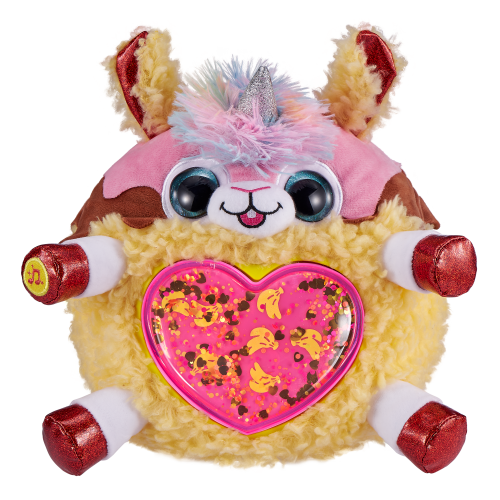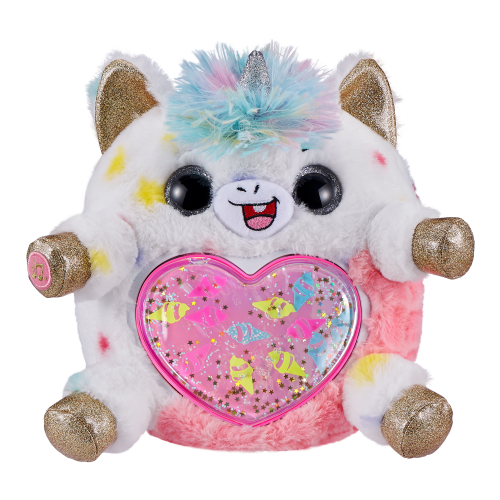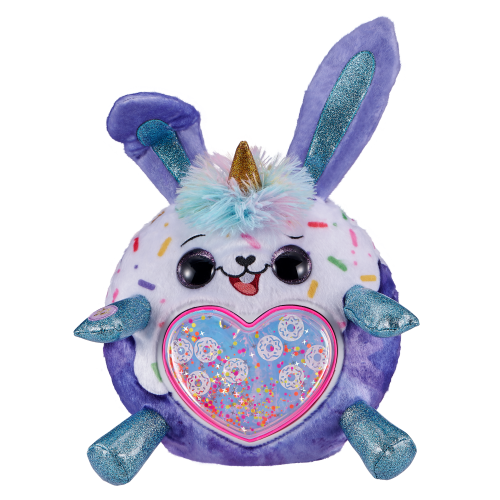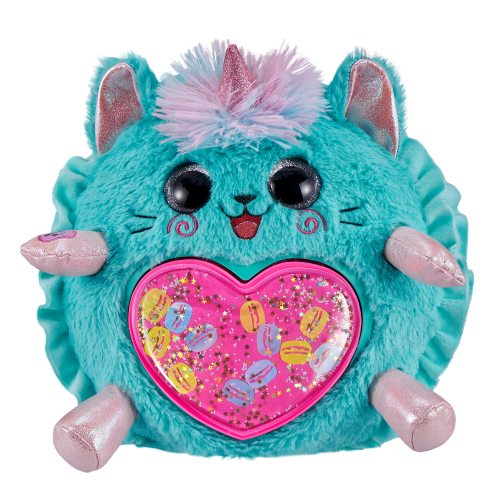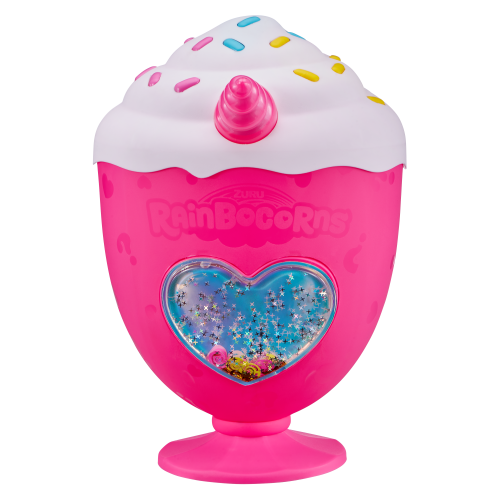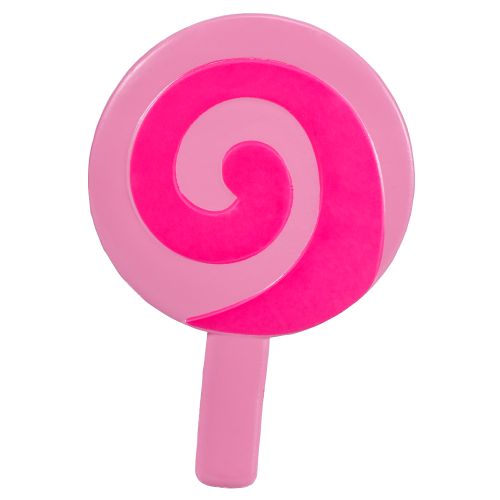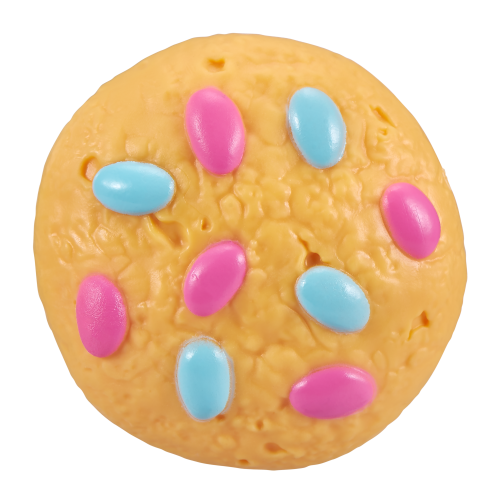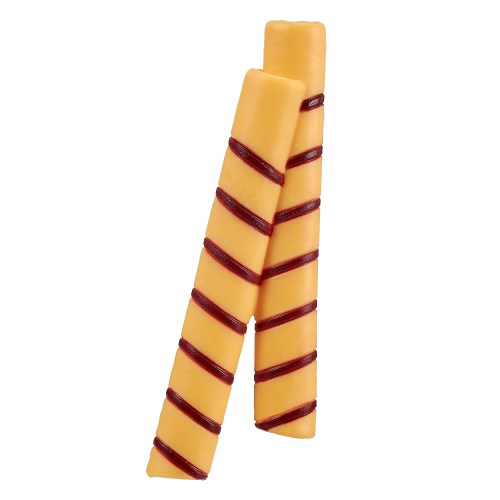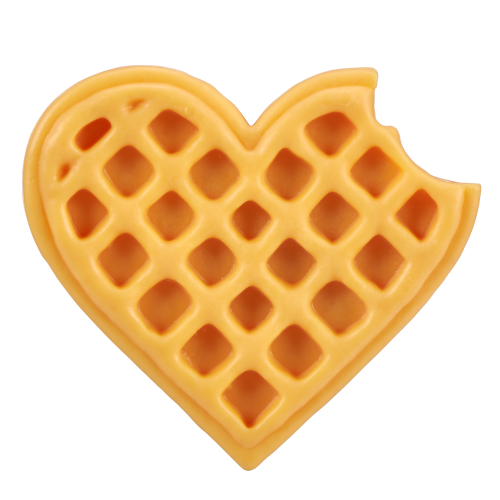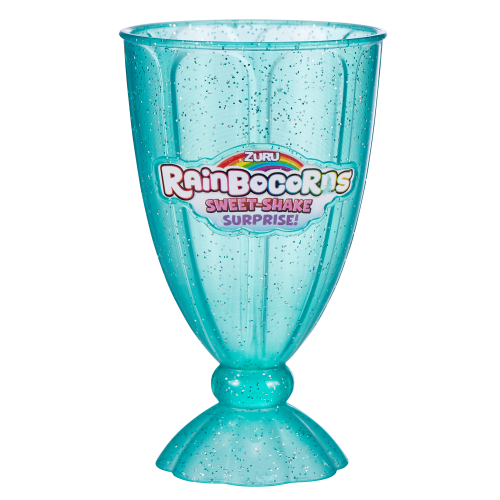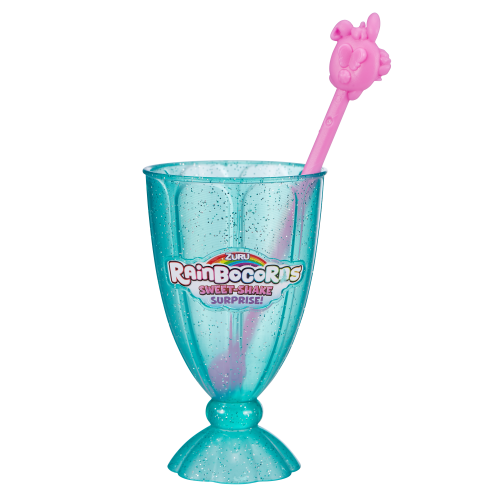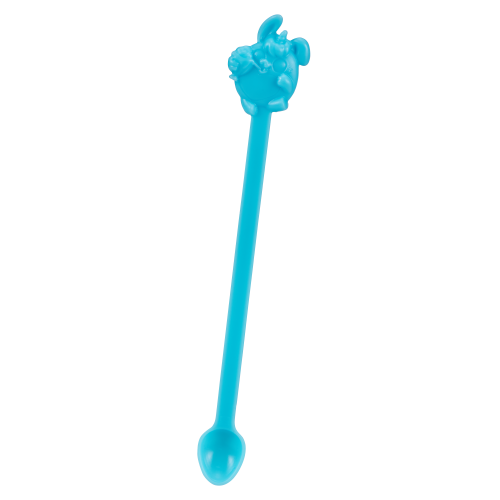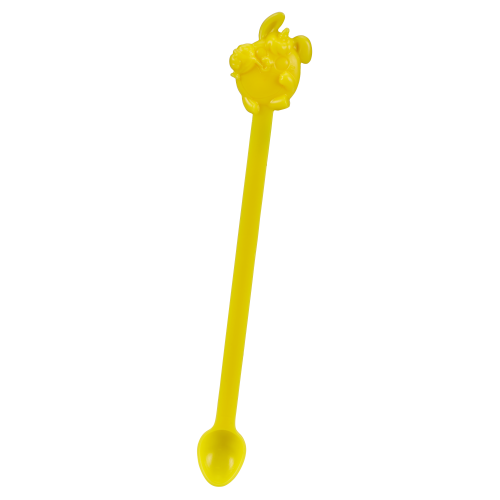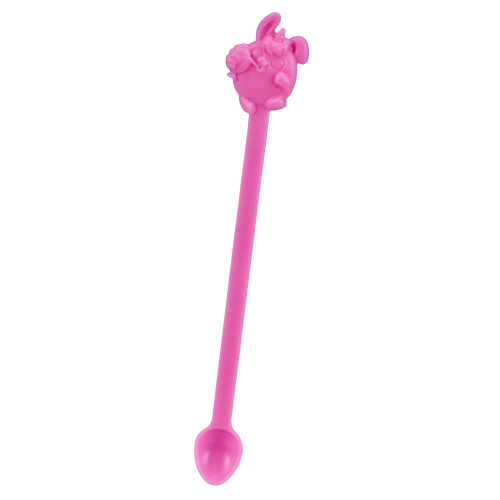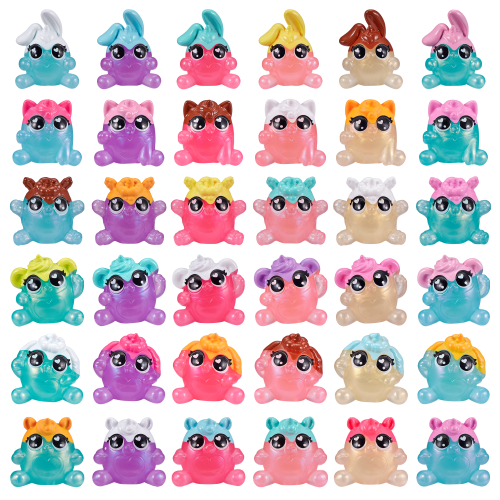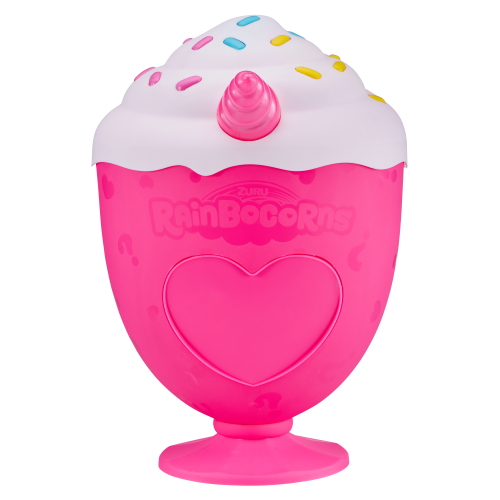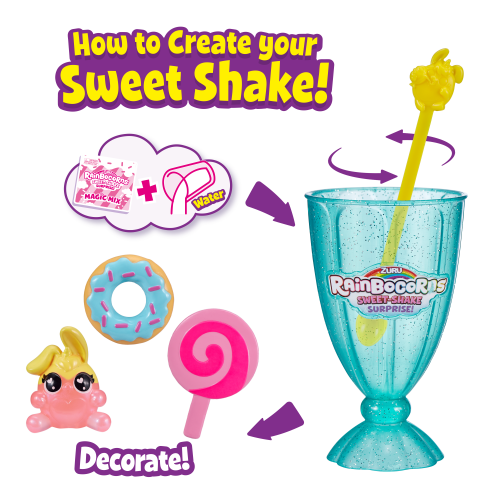 RAINBOCORNS SWEET SHAKE SURPRISE by ZURU
Rainbocorns Sweet Shake Surprise are full of so many sweet surprises! There are 6 new sweet characters to find, including Macaroon Kittycorns and Ice-cream unicorns, and these Rainbocorns even speak! Press their paw once to hear them sing, and press their paw twice for speak and repeat! There are 15 layers of sweet surprises to unbox including new jelly hearts, Boo-Boo sprinkle corns and DIY Sweet Shake Slime mix! Who will you find?!
KEY FEATURES:
• ? RAINBOCORNS SWEET SHAKE SURPRISE: Sweet Shake Surprise are the newest Rainbocorns to be hatching from Rainboville! There are 6 sweet-scented characters to find including the Macaroon Kittycorn, Ice-cream Unicorn, Lollipop Puppycorn, Donut Bunnycorn, Bubble Gum Monkeycorn & Banana Split Llamacorn, all with over 15 layers of surprse to unravel!
• ? 15 LAYERS OF SWEET SURPRISE: There are so many sweet surprises to discover including New Boo-Boo Sprinkle Corns, DIY Slime Mix, as well as your own Sweet Shake Cup, Rainbocorn Stirrer, Food Accessories and Recipe Card to be able to make your own spectacular Sweet Shake!
• ? NEW TALK BACK RAINBOCORNS: These Rainbocorns are full of even more personality with a talk back function! Press their paw once to hear them sing and make cute Rainbocorn sounds, and press twice to hear your Rainbocorn repeat what you say!
• ? PACKAGE INCLUDES: 1 Giant Cup, 1 Mini Cup, 1 Electronic Rainbocorn, 1 Boo-Boocorn, 1 Recipe Card, 1 Collector's Guide, 2 DIY Slime Mix Packets, 1 Stirrer, 2 Decorative Accessories
• ? RAINBOCORNS SWEET SHAKE SURPRISE: The sweetest Rainbocorns to be hatching from Rainboville, these characters come with so many sweet surprises! With the new talk back feature & ability to create your own DIY Slime Sweet Shake, these Rainbocorns are sure to deliver a whole lot of fun! Which sweet character will you find?!
PACK INCLUDES:
1 Giant Cup, 1 Mini Cup, 1 Electronic Rainbocorn, 1 Boo-Boocorn, 1 Recipe Card, 1 Collector's Guide, 2 DIY Slime Mix Packets, 1 Stirrer, 2 Decorative Accessories
Love the Rainbocorn

My daughter squealed in excitement over her new rainbocorns sweet shake surprise. The container it came in is super cute and the rainbocorn is very cute itself. Only wish it came with the 3 triple A batteries it requires. We haven't made the slime yet but will soon. Definitely worth the money! And the 1 year old nephew thinks it's hilarious which is a great bonus.

This product is exactly as described on description

very cute item, but ours was missing half of the surprises included. very disappointing for the money

Only one design flaw otherwise great.

My 6 year old loved this and loved how it will record everything you say. My issue was the heart on the front is suppose to snap in but they make it impossible. Terrible design for that part otherwise great item.

Basic

She loved it!! I would recommend this product.

I would not tell them to buy Rainboscorn sweet sur

Rainbocorns sweet shake surprise did not have enough mix to really enjoy do anything with and it did come with a container with a lid so you can save your slime in I had to find a jar with lid put slime with water to keep so my niece could play with it the next day or several days from now or else playing with out slime is like playing with out shake its pointless Unicorn was just another toy that repeat what you say thats not muchs overall boring the surprise was so tiny my niece didnt know what it was about to throw in trash it was stuck to the paper

My 7yo graddaughter loves this!

My daughters love these and they smell amazing.

My daughter asked Santa for this and she loved it! Smells so good and the "repeat" setting is fun.

Nice product my 11-year-old niece really enjoys playing with it

Great toy. She was so excited to get it. The glittery heart on the front was very hsrd to attach. My husband is strong and it took him many tries to attach it to the belly of the toy. That is the only fault.

Grand daughter loved it

Kind of expensive for what you get. Kids played with them for a day or two then moved on.

Ten year old daughter loved this! She loves the smell of her Llama. Loved the slime! All over perfect gift!

My daughters got quite a few nice toys this Christmas but these were hands down their favorite! The quality and cuteness still managed to exceed my expectations even after seeing all the good reviews. They are adorable and eye catching, sewn with excellent quality, smell AMAZING, and have so many interesting and fun features and extras, like the shake slime and mini figures and the water glitter tummies. They LOVE the feature of the plushes playing back their talking and noises in a high-pitched voice so much. They played with these things all day long setting aside all the other nice toys they got. These toys are worth every penny!!!