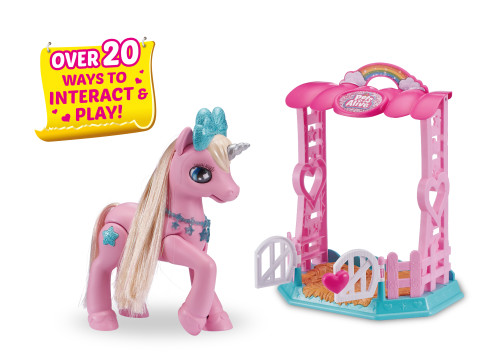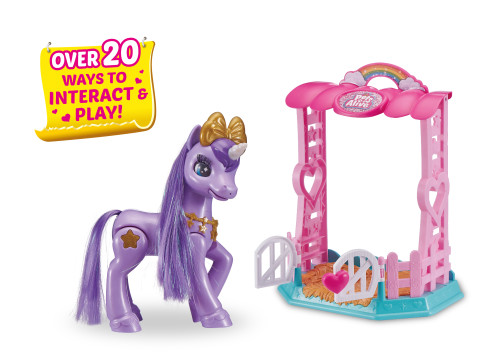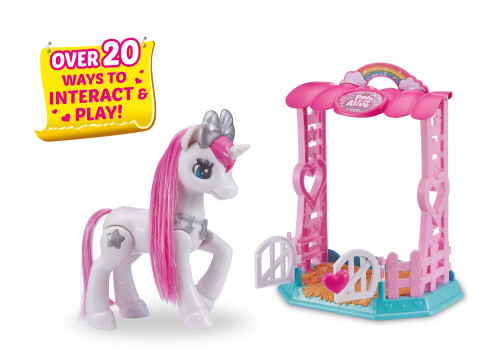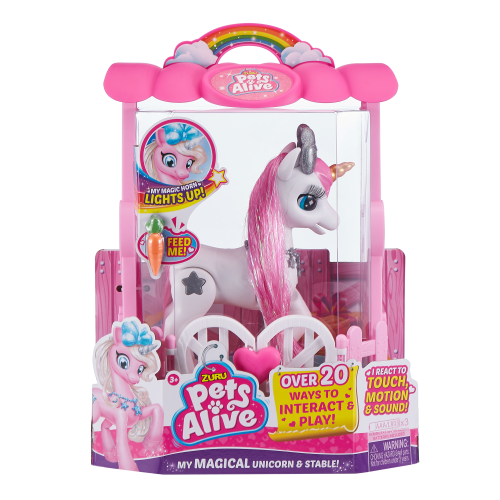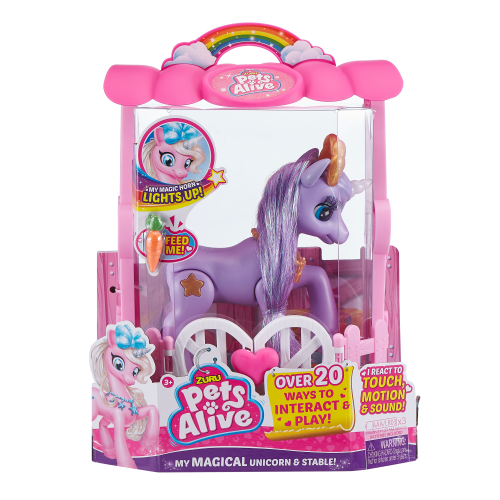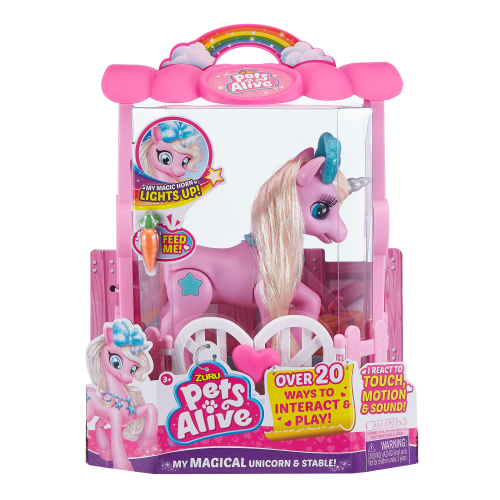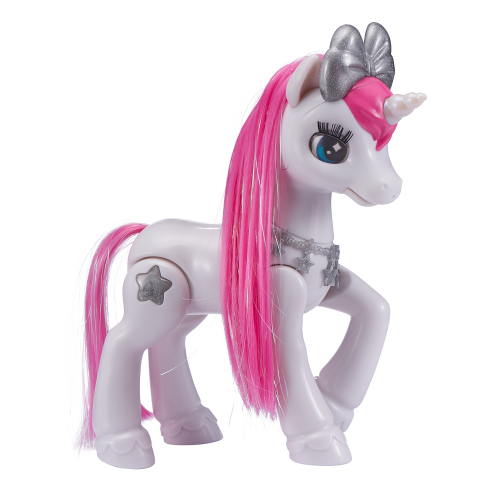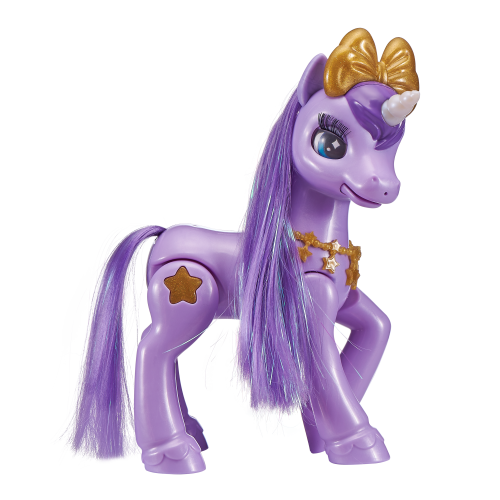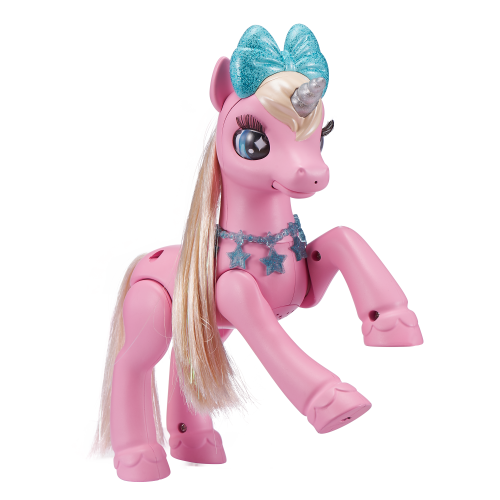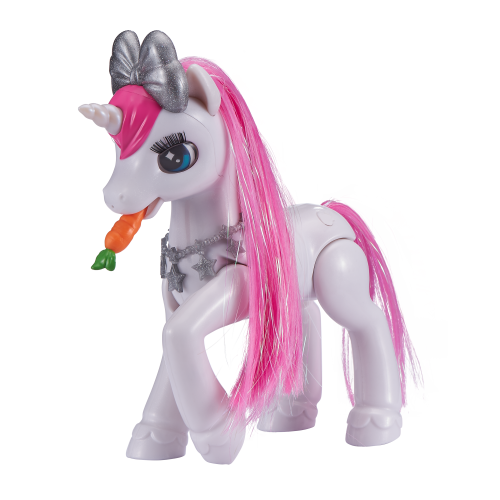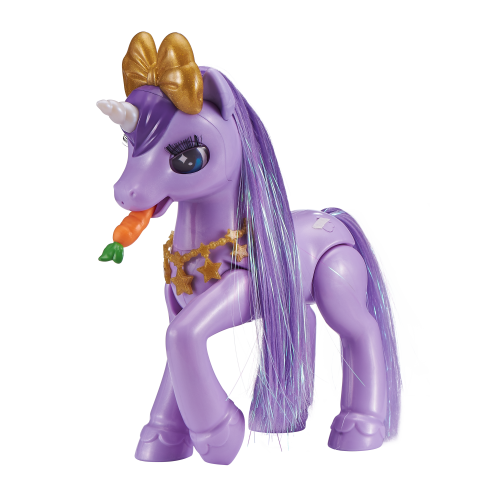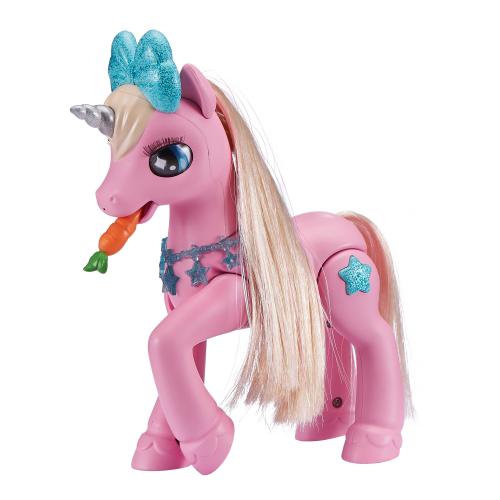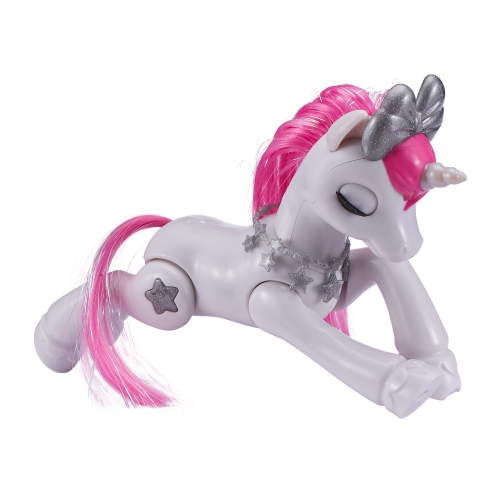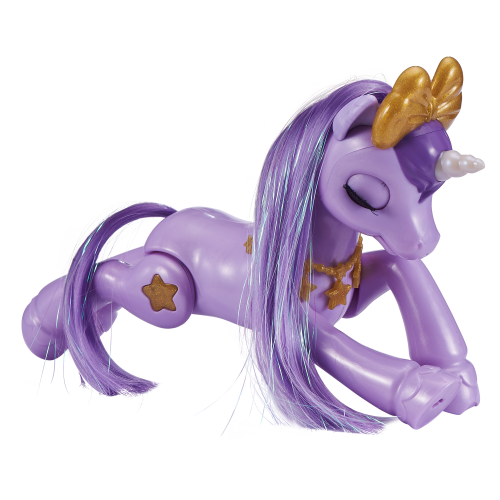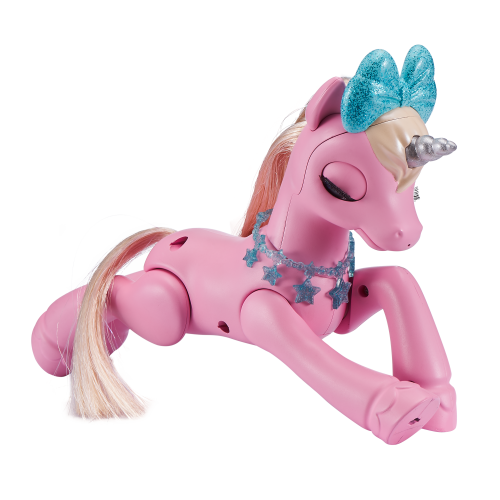 Pets Alive My Magical Unicorn in Stable Battery-Powered Interactive Robotic Toy Playset by ZURU
You'll be head over heels for the Pets Alive My Magical Unicorn! With over 20 different ways to interact and play these magestic characters are filled with life and love. Her beautiful stable is the perfect home for any unicorn.
KEY FEATURES:
• PETS ALIVE UNICORN: The new Pets Alive My Magical Unicorn has over 20 different ways to interact and play! Filled with life and love, you'll be head over heals for this majestic creature!
• INTERACTIVITY-RICH: My Magical Unicorn has so many different ways to play! Over 20 different ways to interact and play; including, a magical horn lighting it up and the Unicorn blowing you a kiss when you blow it a kiss, the fun never stops!
• TALK TO YOUR UNICORN: Ever wanted to talk to a Unicorn? Now you can! Hold the star on its leg, say a sentence, then let go for the Unicorn to repeat the words right back to you!
• PACKAGE INCLUDES: 1 x My Magical Unicorn, 1 x Stable Playset, Batteries Included
• PETS ALIVE: Pets Alive is our newest range of adorable robotic pets. With countless ways to interact and play, these toys will capture your heart and instantly be your best friend. Pets Alive brings you fun and laughter at unbeatable value!
PACK INCLUDES:
1x Unicorn 1x Stable 1x Instruction Manual
Positive

Interaction get, good qualityLikesColorAs a giftFor kids

It is cute

My daughter loves unicorns a whole lot!! What she loves about this one, she can record something and the unicorn plays it back in a unicorn-y kinda voice or music. Mild con, carrot is hard to keep up with.

Favorite birthday gift

My daughter loves it. it was her favorite birthday gift (5yo). One thing that annoyed me (not her) is that it doesnt stand by itself because it has one leg up. Also seems to go through batteries quickly but maybe thats because my daughter is constantly playing with it...LikesColorSizeAs a giftFor kidsQuality

Great Christmas morning gift!

My grand-daughter loves unicorns. I think she is just going to love this when she opens it up Christmas morning!LikesAs a giftColorConstructionSizeFor kids

Lil Pony

Very cute, just right for a 4 year old grand baby.LikesConstructionColorSizeAs a giftFor kids

Christmas gift, little smaller than I thought.

Cute

I think my little granddaughter will like that it repeats what you say.LikesColorConstructionSizeAs a giftFor kids

I ordered in pink but received a white Unicorn.. was kind of disappointed because I didn't have time to try to order the pink one again before my Grandaughter's Birthday

Best buy ever

great toy, does just what it says it suppose to do. My granddaughter loves it.LikesColorConstructionAs a giftFor kidsQuality

Love it

My niece loves it and its bigger in person

5 year old Granddaughter loves this Unicorn!

Nice kids toy

Cute unicorn comes in different colors

Ordered for a 4 year old. All features worked and she was in love- highly reccomend

My daughter uses this all the time! Thank you Walmart for being affordable and able to deliver!

Cute

Everything, my granddaughter is going to Love it. Very interactive. Super cute!