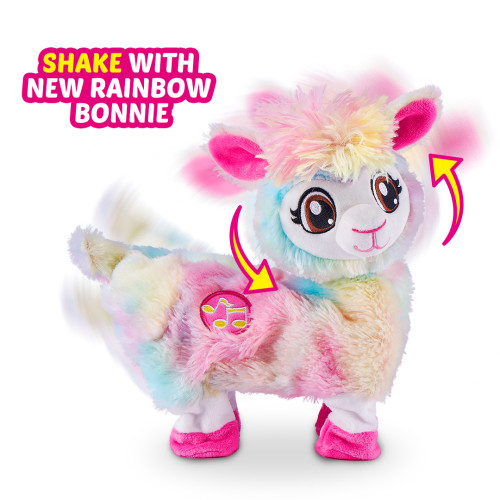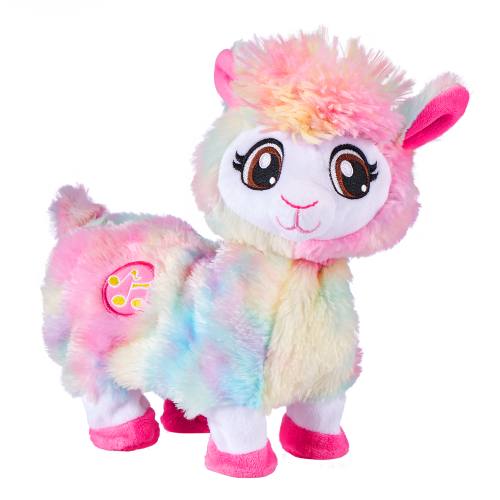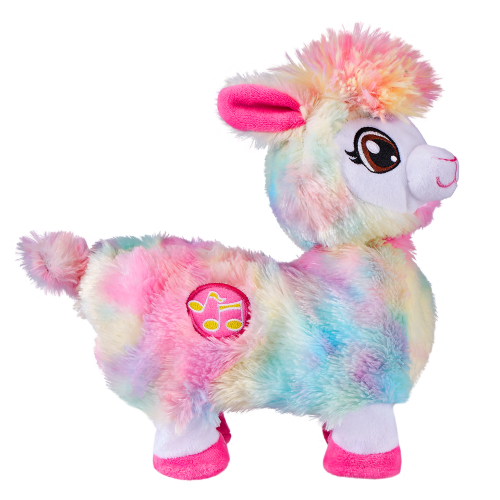 Pets Alive Rainbow Bonnie the Booty Shakin Llama Battery-Powered Dancing Robotic Toy by ZURU
Pets Alive Bonnie the Booty Shakin' Llama has had a fresh new makeover! 3 NEW epic songs, hilarious NEW dance moves and 360 spins! Can you Bop it like Bonnie?
KEY FEATURES:
• RAINBOW Bonnie THE BOOTY SHAKIN' LLAMA: Her funky personality will have everyone up dancing and laughing for hours. With her vibrant colours, and hilarious dance moves, Bonnie is sure to steal the dance floor!
• 3 NEW SONGS THE FAMILY WILL LOVE: Rainbow Bonnie has 3 NEW epic songs, New Hillarious Dance Moves, and NEW Rainbow Fur! Bonnie will have you bop-bop-Bonnieng for hours!
• HIGH-QUALITY ROBOTICS: Bonnie's robotic booty-shaken movement and head-spinning motions make it fun for family and friends to dance along with! Can you Bop it like Bonnie?
• PACKAGE INCLUDES: 1 x Pets Alive Rainbow Bonnie the Booty Shakin' Llama, 1x Instruction Manual, 4 x AA Batteries Included
• PETS ALIVE: Pets Alive is our newest range of adorable robotic pets. With countless ways to interact and play, these toys will capture your heart and instantly be your best friend. Pets Alive brings you fun and laughter at Unbeatable value!
PACK INCLUDES:
1x Llama 1x Instruction Manual
This was a Christmas Gift for an almost 3 year old and she loved it. Works really well as advertised and the kids love it.

The lama was packaged very good!! The thickness of this is very good! It is a great thing to give as a gift! I gave this to my granddaughter for Christmas and she loves it!!!

It was better than we anticipated.

Packaging was great. No damage to box or product. Works as it should and is a blast to play with. Was a great gift. Brought many smiles.

Cutest thing ever! It entertains my grandson and is so much fun to watch.

My granddaughter just love her llamaIs the best gift ever.

My 5 year old granddaughter was so excited to give the Llama to her cousin as a birthday gift. So 2 months later, for Christmas we gave her one. She was thrilled, her eyes lit up and she immediately started playing with it. When we saw her a couple of weeks later she was still enjoying it. Realize she received many gifts for Christmas.

My kids love it, my 10 month old son dances to it all the time!Great gift for little ones

My granddaughter loved it

Gift for 5 and 7 year old Nieces who loved it.

My kids love this dancing llama! Super cute and fun to watch!

Great toy! My niece loved it! Funny and entertaining!

My great grandaughter loved it. And her little brother keeps dancing with her

Es divertido para la niña que se lo regale! Lo ama

My great granddaughter just loves her llama. It made a lot of fun and laughter for the whole family Every child should have one.